Photo Gallery
Planet Powersports Freestyle Motocross show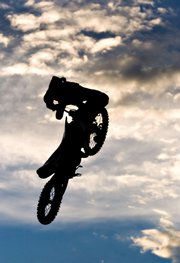 Hayden — Noah Townsend had no trouble getting the packed crowd at the Routt County Fairgrounds' grandstands to cheer Friday night. The 8-year-old buzzed by on his 50-pound, 51cc motocross bike during halftime at the Planet Powersports Freestyle Motocross show as the crowd hooted at each pass by the District 25 (Colorado and Wyoming) No. 3-ranked racer in his Rocky Mountain Motocross Association age division.
But when announcer Henry Billet asked if Townsend would launch the bike off the massive 70-foot ramp-to-ramp jump on the dirt track, the racer didn't even glance at the 12-foot tall hydraulic landing that looked big to folks older than eight to make his call:
"I ain't jumping that," he told the crowd into the microphone.
Toby Whittington, 29, who Billet called "a pioneer of freestyle motocross on the Western Slope," started racing motocross when he was half Townsend's age, growing up in Montrose. On Friday, he joined Darin Connet, Ryan Hilfiger and Chris Taylor for the stunt show at the fairgrounds.
Connet didn't start racing quite as early, but the 30-year-old Louviers resident and Littleton native has been at it for 17 years.
He still can't believe he's making a year-round living and supporting his race habit by jumping dirt bikes, he said. Two weeks before arriving in Hayden, he was doing a freestyle moto demonstration in Colombia. In two weeks time, he'll be doing one in London, Ontario.
On Friday, after the four riders ran through some warm-up tricks, flying above the level of the grandstands roof to show the crowd their capacity for can cans, tail whips and "mandatory suicides" - a trick during which the rider lets go of the bike with both hands and feet mid-air - they got down to business.
"It's a demo, but we consider it a competition," Whittington said before the show. "We do it as a competition to push each other. Who can ride smooth and land smooth tricks. We always ride like that, and then the next guy steps up from there."
The riders each were allowed four jumps apiece. Then, based on crowd feedback to their tricks, the top two advanced to a one-run trick-off.
As Grand Junction-based band Sole Aggression filled the dusty dusk setting with a little roadhouse-style rock, the field was narrowed to Taylor and Connet.
Taylor, 23, pulled the loudest cheers from the crowd of hundreds, as Billet could only explain his trick with, "Folks, the only thing touching the bike there is his boots."
But Connet provided what fans murmured for and wanted most with a sprawling backflip to close the first half of action.
"It's still one of the scarier tricks," said Connet, who completed his first flip two years ago in a foam pit. "You just have to commit."
Commitment also is what enables these four road warriors, all Colorado natives and residents, to live by the seat of their bikes.
In 2001, Whittington was pounding nails, "building houses in Telluride outside in the snow."
When event promotion agencies such as Live Nation committed to action sports, picking up the indoor International Freestyle Motocross Association events, Whittington found a way to ride year-round - he competes in the point series of the 12 to 16 nationwide IFMA events in the winter and hauls his ramp system for shows at anything from fairs and rodeos to motocross and other race events in the summer.
He admits it's "big-time life on the road," but, hey, when you're riding dirt bikes for money and traversing the globe to do it, you don't hear many complaints.
If they can stay healthy - Taylor, who's only broken three bones in a foot, said, "you gotta be ready because of the consequences" - the riders can live by one simple impulse that keeps them pushing ever-evolving trick boundaries and one another along the way.
"It's all about the air," Taylor said.
- To reach Dave Shively, call 871-4253
or e-mail dshively@steamboatpilot.com