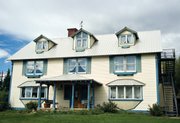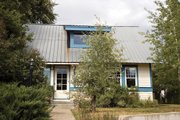 On the 'Net
Read the city's historic preservation regulations on the Web at: www.steamboatspri.... Through the "Departments" link at the top of the page, select the City Clerk's office and then click "Municipal Code of Ordinances." The process to acquire a building or demolition permit for a historic building is detailed in Chapter 26, Article III, Division II, Section 26-84.
Steamboat Springs — In a grainy, black-and-white photograph in Centennial Hall, a building that once was the Steamboat Springs Bed and Breakfast on Pine Street can clearly be seen from the photographer's vantage point, across the Yampa River on Howelsen Hill.
Another aging photograph, this one taken from Fish Creek Falls Road, shows the bed-and-breakfast surrounded by open fields and a few nearby houses.
Both views are drastically different today.
Steamboat Springs has grown exponentially since the bed-and-breakfast was built in 1948. What once was a dominating structure in Old Town is now a building surrounded by neighbors and pavement, tucked away on a corner lot at Pine and Fourth streets.
On Monday, the current owner of 442 Pine St. applied for a demolition permit. Because the building is more than 50 years old, the application required a mandatory hearing with the city's Historic Preservation Advisory Commission. Pam Duckworth, the commission's acting chairperson, said the old bed-and-breakfast isn't eligible for listing on the city's historic register because the building's structure has changed throughout time, losing much of its architectural heritage.
The Advisory Commission recommended a 30-day period before demolition to allow the owner to consider preservation options.
And that, at least for now, is where the city's involvement ends.
"We have some very valuable resources that we're trying to preserve and protect," City Manager Alan Lanning said of the city's existing historic preservation ordinance. "But our ordinance, while it may have worked in some cases, really doesn't have the teeth that it takes to be consistent."
Considering moratoriums
The ordinance, Section 26-84 of the city's community development codes, has no language requiring a property owner to preserve a historic structure.
"Right now, historic preservation is a voluntary activity on the part of the contractor or owner," Lanning said. "I believe it is the intent of the majority of City Council to make it a mandatory activity."
On Aug. 14, the Steamboat Springs City Council voted, 5-1, to consider a 90-day ban, or moratorium, on building and demolition permits involving historic structures. City attorney Tony Lettunich is preparing drafts of two such moratoriums, one of which would be effective immediately and another that would be subject to a lengthier approval process. The City Council will address the moratoriums at its Tuesday meeting.
Meanwhile, the owner of the bed-and-breakfast also has applied for a demolition permit for the adjacent property, a residence at 428 Pine St. that was built in 1913.
At a July 9 Advisory Commission meeting, architect Marcus York said the owner plans to demolish the residence, which has a crumbling foundation, and replace it with a craftsman-style home.
"He definitely wants to knock that one down," Duckworth said.
Debating history
Duckworth was part of a large crowd at Centennial Hall on Aug. 14, when the City Council met with the Advisory Commission and members of the Partners in Preservation community group, which Duckworth said is "interested in preserving Steamboat's character" and is supported by Historic Routt County and Main Street Steamboat Springs.
The meeting fostered a lively debate about balancing historic preservation with the rights of homeowners, who could be impacted by an ordinance that restricts expanding or changing a home designated as historic. That debate will unfold in coming weeks.
Duckworth said that of the eight requests for demolition permits the Advisory Commission has seen this year - a number that already is double that of previous years, she said - most of the debates center around the value of historic residences in Old Town rather than commercial properties.
For the demolition of Rocky Mountain Wine & Liquor at 10th Street and Lincoln Avenue, for example, the Advisory Commission recommended only a three-day waiting period, citing the "little historic integrity" left in the building, formerly a gas station.
Assessing impact
However, tightening the city's preservation regulations could put a clamp on homeowners' projects in Old Town, Councilman Steve Ivancie said.
"Where is the private homeowner in this whole discussion?" Ivancie said. "This would just increase the price of property in Old Town - talk about unintended consequences."
Linda Kakela, the city's director of intergovernmental services, said the city already is assessing the impact of tighter preservation regulations.
"The city is conducting a survey of all buildings 50 years and older," Kakela said. "We will have that information by the end of December."
By that time, the City Council could have several new faces. Five of the seven council seats will be on the ballot Nov. 6. At least two current members, Ken Brenner and Paul Strong, will not seek re-election.
Dave Epstein is the founder of the nonprofit salvage operation Home ReSource, which allows contractors and homeowners to donate building materials for a tax deduction. At the Aug. 14 meeting, Epstein made a thinly veiled reference to the upcoming election campaigns.
"We will support you," Epstein told City Council members, three of whom may be running for re-election. "You make this happen, and we guarantee we will go out and make sure you have all the support you need."