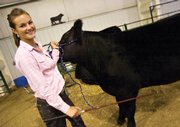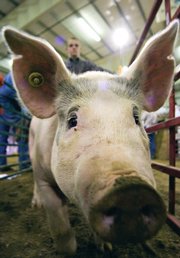 If you go
7 to 8 a.m. Sunrise Worship Service
8 a.m. Exhibit Hall opens
9 a.m. Pretty Baby Contest
9 to 11 a.m. Colorado Quitline Working Ranch Horse Competition
9 to 11:30 a.m. Antique Tractor Pulls, Dry Creek Park
10 a.m. Mayors Brownie Contest and Commissioners Cookie Basket Contest
10 a.m. Coloring Contest judging
11:15 a.m. Crowning of new Royalty, Queen Run and salute to outgoing royalty
11:30 a.m. Saddle Bronc Cowboy & Ranch Rodeo Team Auction
Noon to 1:30 p.m. Comet Ridge USA, Inc. and Mountain Valley Bank present the Bobby Robinson Memorial Saddle Bronc Riding
1:30 p.m. to 4:30 p.m. MacArthur & Stine Real Estate with Sounds of the Valley Audiology present the Ranch Rodeo
2 to 6 p.m. Open Class payout, Home Arts Exhibits released
4:30 p.m. (or immediately following the Ranch Rodeo) Elk River Farm & Feed Adopt-a-Bunny, Circle K Ranch Adopt-a-Pig contests
6 p.m. Carcass Contest at Soroco High School
All events at Routt County Fairgrounds in Hayden, unless otherwise noted.
Steamboat Springs — Sarajane Rossi had two good reasons to smile Saturday night at the Routt County Junior Livestock Sale.
The sale of her grand champion steer, Bo Duke, which added $4,900 to her college fund, was the obvious answer. Beating three sisters and two cousins for the crown was the icing on the cake.
"It was pretty cool. A lot of us were in the grand champion round," said Rossi, 16, who's a junior at South Routt High School. "It was pretty exciting because there was a good chance one of us was going to get it."
The Phippsburg resident had never progressed past the grand champion round in the eight years she has competed, but Rossi said this year was special. There was no way the judges could pass on her 1,200-pound steer that was bought by Mountain Valley Bank and Hayden Mercantile.
She added that Saturday's fair is the culmination of a lot of work, but there are rewards other than the money raised at the auction.
"4-H is a great experience for kids," she said. "I've learned so many things, like public speaking through livestock judging, and I've learned a lot about animals - my steers."
Rossi's 12-year-old sister Josie said she can't wait until next year to square off against her sisters again.
"I'm happy because I almost beat her," said Josie, who sold her steer for $3,750.
"We are pretty competitive siblings," Sarajane chipped in.
Colorado State University Extension Director C.J. Mucklow said Saturday's fair was "going great" and that he was very proud of all the 4-H members that participated.
"This is all about helping the kids and supporting the 4-H program, because most of the kids use this money for scholarships for higher education," said Mucklow, who noted the kids were selling their animals for up to 10 times the market price.
He said the steers and lambs were selling much higher than last year.
"We had a lot of animals to sell, and it's been really great so far for all the support we've had," he said. "I think this program is about making grand champion kids. Only one kid gets a grand champion animal."
Another eight-year-veteran, Andrea Hessenberger, also entered the ring with a grand champion animal for the first time Saturday.
The 16-year-old Steamboat Springs High School student applied a little flair to her pig before they entered the ring. Glitter made his coat sparkle, while a New York Yankees hat was easily flung off.
Ballin, her 266-pound pig, returned $2,900 for Hessenberger's college fund, which was quite a bit more than the $172 market price.
"It's enough for me," she said. "I didn't expect nearly that much."
The biggest winner of the night was Clark resident Catharine Koroulis, 15, whose lambs Billy and Bob were crowned grand champion and reserve champion. Together, the two pigs were sold for $5,000.
"This was not expected, but I'm so excited," said Koroulis, who is no stranger to blue ribbons.
She has entered three reserve champion pigs and one grand champion pig prior to Saturday.
"I'm just super-competitive," Koroulis said. "I like to compete in whatever I can."