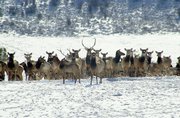 Bear aware
The Colorado Division of Wildlife is hosting a free public forum to educate residents about bear bears. The forum is from 7 to 9 p.m. Wednesday at Olympian Hall, 845 Howelsen Parkway.
A late frost and a hot, dry summer have resulted in a natural food shortage for the bears, creating increasing conflict between people and bears.
"We had the situation with putting the bear down there, and the community meeting is to help explain bear biology and explain the why's and the how's," DOW spokesman Randy Hampton said about his agency's role in addressing bears that become a nuisance.
In addition to trash storage, DOW bear policy, Steamboat Springs' trash ordinance updates and black bear research, the district wildlife managers and biologists on hand will gauge the interest in establishing a volunteer Bear Aware program for the Steamboat area. DOW Bear Aware members are educational outreach volunteers who help educate people and assess properties regarding bear attractants such as trash, bird feeders, barbecue grills, pet food and fruit trees.
Steamboat Springs — Assessing the size of an elk herd is a tricky task.
"It's not like a U.S. census - the elk don't just come out and raise their hooves to be counted," joked Colorado Division of Wildlife spokesman Randy Hampton.
New information about two elk herds in Northwest Colorado has prompted the DOW to seek public input about revising management policies. The public is invited to a planning meeting from 6 to 8 p.m. Thursday at the Moffat County Fairgrounds Pavilion, 640 E. Victory Way in Craig.
Hampton said the DOW had used a computer model system to estimate the size of herds such as the Bear's Ears herd that occupies Data Analysis Unit E-2 from the Wyoming border south to U.S. Highway 40 between Steamboat Springs and Craig.
But this winter, DOW officials conducted an "intensive aerial survey" that revealed a significant change in herd size.
The size of the E-2 herd increased from an estimated 16,100 elk after the 2005 harvest to 25,760 after last season's harvest, with a vibrant bull-to-cow ratio of 38 to 100.
For the DOW to reach population objectives in the herd, it would have to dramatically reduce its size. The herd is North America's second-largest migratory elk herd. A dramatic reduction in population also would reduce hunting opportunities.
"Herd size is a function of biology, but it is also a function of what the public desires for a population," said Ron Velarde, DOW's regional manager for Northwest Colorado. "While the DOW is well suited to make biological decision, we need public input to determine if larger or smaller herds would be acceptable."
Because DAU plans are revised approximately every 10 years, the DOW will present several management alternatives at the meeting. The E-2 plan discussion will be from 6 to 7 p.m., and the E-1 discussion will follow from 7 to 8 p.m.