Transcending the genre
Running Late seeks to mix bluegrass, other music
Past Event
Friday, August 17, 2007, 9:30 p.m.
Mahogany Ridge Brewery & Grill, 435 Lincoln Ave., Steamboat Springs
21+ / Free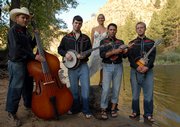 A fiddle, dueling vocals and a blistering banjo sound may define bluegrass music, but Joe Turman said his band, Runnin' Late, transcends the genre.
"You might say the reason we called it 'mountain grass' is because we are trying to infuse other genres into bluegrass," said Turman, vocalist and fiddler for Runnin' Late. "What we do, we keep the harmony and vocals in the bluegrass world and transgress into other kinds of music."
The five-piece band includes Matt Purinton on mandolin, guitar and vocals, Jillian Turman on vocals and percussion, John Stewart on upright bass, guitar and vocals, and Jerry Benenhaley on banjo, guitar and vocals.
Turman said the band is the finest group of musicians he has worked with.
Turman said Jillian Turman's deep alto provides a "breath of fresh air."
"She lights up the stage with a repertoire derived from a photographic memory of every musical performance which she has experienced, with numbers in the thousands," he said. "She is so connected with Colorado music that it was a natural addition to the 'mountain inspired music' of Runnin' Late."
Runnin' Late, which was formed about a month ago from Turman's side project, White Water Ramble, kicks off its inaugural tour tonight with a show at Mahogany Ridge Brewery & Grill.
"I've been recruiting musicians and working out details in touring," Turman said. "Our goal is to be a full-time, touring band. Our home is the mountains of Colorado, and we don't have a base. We are excited to get out on the road, play some music and meet some people."
Despite the band's desire to expand past the boundaries of bluegrass, Turman said audiences should expect a thorough bluegrass experience.
"If you want to hear a fiddle tune, we can do it," he said. "We can do it great, and we do it a lot."
The show starts at 9:30 p.m. The cost is $5.