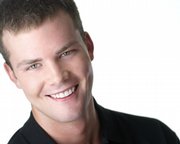 Steamboat Springs — Ryan Serhant couldn't believe his ears when his name was read off a red envelope during Monday's live taping of the CBS Early Show.
The young actor - who got his professional start at the Perry-Mansfield Performing Arts School and Camp in Steamboat Springs - won a 13-week contract on the soap opera "As the World Turns" after successfully competing on the Internet reality show "InTurn" on cbs.com this summer.
"I don't even think I was even looking when they read my name," Serhant said Thursday. "I was preparing myself to lose because I figured that was the best way to go into it."
Serhant was one of three remaining actors vying for the coveted contract. Dyon Donley and Jessamyn Bradley were the other finalists. Serhant won the contract because he received the most viewer votes after "InTurn" ended.
Steamboat Springs viewers certainly played a role in that, he said.
"I have no idea how many votes I received, but I know my mom and dad were running around telling everyone they saw to vote for me," he said. "People saw a (previous) article in the newspaper, and I think that helped spark some interest."
Serhant begins filming "As the World Turns" on Sept. 24, two days after he closes "Purple Heart," a New York City play in which he stars. Serhant also read for "Purple Heart" during his time at Perry-Mansfield.
"It's all happening at once," he said. "It's a very exciting time."
Serhant will play soap opera character Evan Walsh IV, the son of a popular "As the World Turns" character from the 1990s.
"All I know is that he's a young, hotshot biochemist," he said. "He's been tied into the history of the show, which is really cool."
Since learning he won the contract, Serhant has been riding waves of emotions.
"Every day has changed," he said. "I've been nervous. I'm excited. It's a mix of both."
Viewers likely will begin seeing Evan Walsh IV in late October, he said.
"You can see that kid from Steamboat Springs - maybe they'll let me wear a cowboy hat or something in one of the episodes," he said.
- To reach Alexis DeLaCruz, call 871-4234
or e-mail adelacruz@steamboatpilot.com