Photo Gallery
Power Play The Future Photos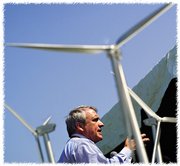 Photo Gallery
Power Play The Future Graphics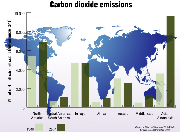 Commission shake-up provides new look
House Bill 1341, known as the Oil and Gas Commission Reorganization Bill and sponsored by state Rep. Kathleen Curry, D-Gunnison, and state Sen. Jim Isgar, D-Hesperus, changes the fundamental makeup of the Colorado Oil and Gas Conservation Commission. The commission regulates impacts from oil and gas activity across the state.
The new bill expands the number of members from seven to nine and requires an increased balance of interests by requiring members from certain geographic areas and professional experience.
On July 12, Gov. Bill Ritter appointed five new members to the COGCC:
- Joshua B. Epel of Greenwood Village, who helped author the Colorado Voluntary Cleanup Act and the Colorado Air Pollution Prevention and Control Act. Epel has served on the Regional Air Quality Council and the Steering Committee for the Grand Canyon Visibility Transport Commission.
- Garfield County Commissioner Tresi B. Houpt of Glenwood Springs. Houpt is the chairman of the Land Use and Natural Resources Committee with Colorado Counties and is a member of the National Association of Counties' Environment, Energy and Land Use Committee.
- Michael P. Dowling of Denver, founder and principal of Western Ranchland Investors. Dowling is a founding member and current chairman of the Colorado Conservation Trust.
- Richard D. Alward of Grand Junction, an ecologist and owner of Aridlands Natural Resources Consulting. Alward helps federal land agencies assess the potential impacts of gas, coal and uranium development on western Colorado ecosystems.
- Thomas L. Compton of Hesperus, owner and manager of the Compton Cattle Co. commercial beef cattle enterprise. Compton is vice president of the Colorado Rural Electric Association's board of directors.
On Aug. 9, Ritter appointed:
- Mark Cutright, an Aurora Republican who has more than 25 years of experience managing drilling and production operations in the oil and gas industry.
Their terms are for four years and their nominations require Senate confirmation.
Additional members of the Commission include current Commissioner Kimberlee Gerhardt, of Durango, Colorado Department of Natural Resources Executive Director Harris Sherman and Department of Public Health and Environment Executive Director Jim Martin.
On the books
HB 1341, Oil and Gas Commission Reorganization
One of the most talked-about bills of the 2007 legislative session, HB 1341 expands the number of Colorado Oil and Gas Conservation Commission members from seven to nine, and brings balance to that membership by adding public health, environment and wildlife impacts to the commission's mission.
HB 1298, Best Management, Wildlife
A companion measure to HB 1341, this bill expands the policy focus of the Colorado Oil and Gas Conservation Commission to consider public health, environment and wildlife impacts. HB 1298 requires the commission to use best management practices to minimize harm from oil and gas development.
HB 1139, Severance Tax
Doubles the percentage of severance tax revenues, from 15 percent to 30 percent, that flows directly to energy-impacted communities based on their energy-industry employee populations.
HB 1252, Surface Rights
Requires oil and gas developers to minimize surface intrusion and damage by using the latest drilling technologies, such as directional drilling.
HB 1180, Reporting at Wellhead
Sponsored by state Rep. Al White, R-Winter Park, this bill requires the Colorado Oil and Gas Conservation Commission to establish new rules by Jan. 1, 2008, to ensure the accuracy of oil and gas measurements at wellheads.
SB 91, Renewable Resource Development Areas
Calls for the state to create a map by Oct. 31 showing all electricity generation and transmission lines across Colorado to determine which areas could support renewable energy projects.
SB 246, Clean Energy Fund
Establishes a $7 million Clean Energy Fund to finance renewable energy projects.
SB 200, Uranium Mill Tailings
Extends a program created in 1990 that was about to expire that allows for remediation of uranium mill tailings.
Colorado is changing so much that, for the first time in a long time, Doug Seiter is a little ashamed of how well things are going.
"We now have an embarrassment of riches," Seiter, president of the Colorado Renewable Energy Society, said at the Steamboat Grand Resort Hotel in June. "The time couldn't be better for action."
Seiter's comment referred to a wave of renewable energy industries, research and development that is coming to Colorado, spurred by new political leadership and first-year Democratic Gov. Bill Ritter. The state Legislature passed 32 laws addressing energy issues this year, mandating everything from increased standards for renewable energy use to sweeping changes in the Colorado Oil and Gas Conservation Commission.
"It was a tremendously successful legislative session," said Tom Plant, director of Ritter's energy office. Plant is a former Democratic state representative from Boulder County and an outspoken advocate for renewable energy development.
But the embarrassment of riches applies to more than renewable energy industries.
"You all have a tremendous opportunity," natural gas developer Fred Julander told a Craig audience in May. "I think natural gas will bring a lot of economic opportunity to (Moffat) County for the next 100 years."
A report released in June shows oil and gas is the biggest industry in Colorado, surpassing even tourism. Oil and gas pumps $22.9 billion into the economy each year, compared to more than $21 billion for tourism, according to a study conducted by the Colorado Energy Research Institute at the Colorado School of Mines.
Land use battles across the Western Slope, particularly in Northwest Colorado's Vermillion Basin and on the Roan Plateau near Rifle and Parachute, are bellwethers of what lies ahead for Colorado. Debates about drilling on the Roan have even stretched all the way to Washington, D.C., where two Colorado Congressmen recently put a ban on drilling atop the Roan in the 2007 Energy Bill, which has yet to be approved by the U.S. Senate.
As energy development continues to change lifestyles and economies across Colorado, numerous state officials, politicians, developers and conservationists say balancing that growth with concerns about land use, environmental conservation and resource management is now the predominant challenge facing our state - and will be for years to come.
"The development has to be done in a way that respects the beauty and integrity of Western Colorado," said Harris Sherman, executive director of the Colorado Department of Natural Resources. "We need to make sure local governments have the tools necessary to manage the growth."
Tax and mend
Severance tax revenue is a key tool for local governments and municipalities impacted by energy development, including Routt County. The state of Colorado receives severance taxes from mining and energy exploration industries, and returns a percentage of those dollars to counties affected by the development.
Federal mineral lease subsidies also are allocated to communities affected by energy or mineral exploration. Routt County Finance Director Dan Strnad said Routt County, home of Twentymile Coal Co. in West Routt, has received mineral subsidies ranging from a high of $550,000 in 1998 to a low of $220,000 in 2004.
During this year's session of the state Legislature, challenges arose as to how to use federal dollars, especially given the needs of Colorado's struggling higher education system. Although several legislators proposed bills that would have changed the allocations of severance tax and federal dollars, possibly sending that money to state education funds, the proposals all failed after facing strong opposition.
"The mineral lease subsidies should be spent for natural resource purposes, and not be a general subsidy for the state of Colorado. Those monies need to come back to their counties of origin," said Routt County Commissioner Doug Monger, who this year is president of Colorado Counties, Inc.
At least for now, severance taxes and mineral subsidies will not only continue funding local governments, but they will do so at an increased rate.
On May 29, Ritter signed House Bill 1139 into law on the steps of the Garfield County Courthouse in Glenwood Springs. Sponsored by Rep. Kathleen Curry, D-Gunnison, and Sen. Josh Penry, R-Grand Junction, the law doubles the percentage of severance tax revenues - from 15 percent to 30 percent - that is allocated to energy-impacted communities.
State Sen. Jack Taylor, R-Steamboat Springs, and state Rep. Al White, R-Winter Park, co-sponsored that bill.
Drilling for education
Rep. White already is working on another way to use energy revenues to help fund higher education in Colorado.
Along with Penry, White is hoping to use taxes and subsidies from drilling on the Roan Plateau for the state's colleges and universities.
"We're hoping to put a bill together for presentation in the upcoming legislative session," White said in July. "This could be a $60 million or so a year solution for higher education. : It would get them a long way down the road."
But at least one accountant, at the request of state Democratic politicians, has said White and Penry's estimation of potential revenues from Roan drilling is far higher than it should be.
White said his intent is simply to prepare a positive use for the revenues should the Roan be opened for exploration.
"Ultimately, the question is do we get forward or don't we?" White said of Roan drilling. "All I'm saying is that once it's accomplished, let's use the funds that are generated."
Back and forth
Whether drilling will occur on more than 50,000 acres of the Roan Plateau is a debate that is changing nearly every day. The plateau rises 3,000 feet above Rifle and Parachute north of Interstate 70.
Earlier this year, the Bureau of Land Management approved an initial plan for up to 1,570 natural gas wells on the plateau, known for its open space and wildlife habitat. But Gov. Ritter and U.S. Sen. Ken Salazar, a Democrat from the San Luis Valley, requested a 120-day extension of the plan's review period to allow further review of potential impacts from drilling.
The BLM owns 27.1 million subsurface, or underground, acres and 8.4 million surface acres in Colorado, giving the bureau a huge voice in directing future energy exploration and development in the state.
Salazar went so far as to use Senate rules to essentially block President Bush's nomination of James Caswell as the next director of the BLM, until a 120-day extension was granted.
In July, the U.S. Department of the Interior rejected the requested extension.
But on Aug. 4, U.S. Rep. John Salazar and U.S. Rep. Mark Udall, both Colorado Democrats, placed a ban on Roan drilling by including "no surface occupancy" language in a wide-ranging energy bill known as the Energy Independence Act.
The language allows oil and natural gas developers to extract minerals in the area, but does not allow any drilling on federal lands atop the Roan Plateau.
"While I was pleased to learn that the Interior Department finally decided to delay leasing the top of the Roan Plateau, I believe we must continue to strike balance and the language protecting the top of the Roan in the energy bill does just that," Rep. Salazar said. "I was proud to work with Rep. Udall to reach a responsible alternative that protects the vast public lands atop the Roan Plateau."
Balancing act
At an Aug. 11 fundraiser in Steamboat Springs, on a tour of the Western Slope during Congress' August recess, Salazar said the Roan Plateau was a bargaining chip in a series of compromises during the House's work to approve the energy bill.
A lifelong rancher and second-term Congressman, Salazar represents the state's Third Congressional District, which includes Routt County and 28 other counties across the Western Slope and southern Colorado. U.S. Sen. Ken Salazar is his younger brother.
John Salazar said in crafting the energy bill, many Democrats in Congress who are politically more liberal than he is worked "basically to stop oil and gas" - a position Salazar disagreed with.
"We need the oil and gas industry," John Salazar said. "It's part of our plan to move America forward towards energy independence, as we also develop renewable energy industries. : We don't want to stop oil and gas development, but we want to make sure it's done the right way."
Salazar said he often takes positions that are close to the center of the political spectrum.
"I'm middle-of-the-road," Salazar said. "If I'm getting attacked from both the right and the left, I feel like I'm where I need to be."
The energy legislation also includes more than $2 billion, spurred by John Salazar, for the development of ethanol, bio-diesel and other alternative fuels. Udall, a member of the House Natural Resources Committee, added several amendments as well, including a fund to help local governments pay for infrastructure and services caused by future oil shale development.
"We are all aware of the seriously disruptive economic impacts that occurred to communities from previous oil shale development efforts," Udall said. "I think the federal government - if it is going to promote development of this resource again - must show it has learned from that experience and help mitigate any potential impacts from an oil shale program. That's what this provision is designed to accomplish."
The entire bill, House Bill 3221, is now awaiting action by a Senate committee. Action will likely occur after Congress returns from its August recess.
A new commission
Of all the legislation passed at the state Capitol this year, perhaps none has created as much buzz - and as much speculation about future impacts - as House Bill 1341, known as the Oil and Gas Commission Reorganization Bill.
Sponsored by state Rep. Kathleen Curry, D-Gunnison, and state Sen. Jim Isgar, D-Hesperus, the bill changes the fundamental makeup of the COGCC, which regulates development and impacts from oil and gas activity across the state.
The new bill expands the number of COGCC members from seven to nine, requires an increased balance of interests by requiring members from certain geographic areas and professional experience, and adds public health, environment and wildlife impacts to the commission's mission.
Ritter signed the bill into law in Grand Junction on May 29. He appointed five new commission members July 12, and filled the final spot Aug. 9.
"With these new commissioners operating under a new set of goals and priorities, I'm confident we can ensure responsible and reasonable development of our vast oil and gas resources, and protect Colorado's land, water, public health, wildlife and communities," Ritter said.
At least one energy official is not yet ready to assess impacts from the new commission.
"Certainly, there will be some changes," said Susan Alvillar of the Williams energy company, which extracts natural gas from 1,800 wells in the Piceance Basin. "We're taking a cautious, wait-and-see approach."
It's about Routt
In 1985, the Chinese city of Shanghai had one skyscraper. Now, it has more than 300. In 2005, 70,000 new supermarkets were built in China, which consumes half the world's concrete, leads the world in consumption of electricity, and has plans for construction that will equal three Manhattans.
At a coffee shop in downtown Steamboat Springs, Margaret Berglund hotly disputed the notion that local action, such as using compact fluorescent light bulbs or taking less car trips, will have little impact on the big picture of widespread industrialization and pollution across the globe.
"I hate that argument - it's the stupidest thing I've ever heard," said Berglund, who advocates for environmental stewardship at a grass-roots level as an organizer with the Western Colorado Congress. "Why shouldn't we be doing our part? All sorts of little things need to be better."
Jeff Troeger, who teaches micro- and macro-economics at Colorado Mountain College in Steamboat, tells students that the energy market is filled with unseen costs and impacts, which Troeger calls "externalities."
"The challenge of the next 10 to 15 years will be taking all these externalities and bringing the total costs of energy growth back into the system," Troeger said. "We're in a transition."
Vince Matthews, director of the Colorado Geological Survey, said rapidly increasing energy demand - locally and globally - will place increasing pressure on state and local governments to develop resources.
"All of the world's natural resources are being heavily affected by what's going on in China, India and the United States today," Matthews said. "What's going on in energy is the tip of the iceberg for what's going on in natural resources.
"Colorado may see increasing shortages of critical raw materials," Matthews said, adding that rising demands will require a multi-faceted approach to energy production.
"It's the human resource that's driving this demand," Matthews said. "In the future, we are going to need every single energy resource we've got."