Bus drivers wanted
Fewer drivers mean fewer route options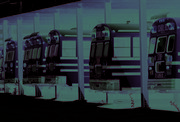 Steamboat Springs — The Steamboat Springs School District needs additional bus drivers in order to prevent a cutback in bus service.
Ed Dingledine, the district's transportation director, told parents Wednesday during an information session about Soda Creek that the district is trying its best to not cut routes. The 2007-08 school year begins in less than two weeks.
"It's not a matter of whether I want to do it," he said. "It's a matter of personnel."
Dingledine said one full-time bus driver, along with part-time drivers, are needed for in-town routes. Job candidates don't need to live in the district to apply for the job.
"We will also work with them through the learning curve - providing the training, the licensing and fees," he said.
Job candidates must be available between 7 and 8:30 a.m. and 2:45 and 4:30 p.m. Monday through Friday.
"There will be some extra time put in for paperwork and taking care of the bus, such as cleaning it," said Dingledine, who noted there are also some pre-trip inspections required every morning by the Colorado Department of Transportation.
"If a person has a little bit of time, they can earn some extra money," he said. The district will provide bus drivers with health insurance benefits and enrollment in the Public Employees Retirement Association.
Dingledine said training would take five days, after which the driver would have a Class B license.
"After that, we get in the bus and go through maneuvers, learn how to handle the bus and to go through the streets," he said.
Dingledine added the district has upgraded the bus fleet the past few years.
"You will have a nice, clean bus to drive," he said.
For more information on how to apply for the bus driver positions, call Dingledine at 879-1057.
- To reach Mike McCollum, call 871-4208
or e-mail mmccollum@steamboatpilot.com