Building Larry's trail
Routt County Riders is hosting two special trail work days this weekend to finish a singletrack trail built in honor of staunch mountain bike supporter Larry Johnson (1944-2005). RCR member and trail work organizer Gretchen Sehler said that approximately 1/3 of the "little over a mile" trail, across Blackmere Drive from the old Loop 2 trail on Emerald Mountain, is already complete.
Work sessions will run from 9 a.m. to noon Saturday and Sunday. Volunteers should meet at the gate at the top of Routt Street. Water will be provided.
Sehler said volunteers should bring work gloves, elbow grease and a "creative mind," to help nominate name possibilities for the new trail.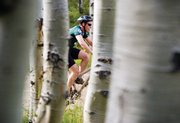 Steamboat Springs — There are not too many "perfect" outdoor locations people would describe as both tacky and beautiful.
But for numerous mountain bikers crossing the Wednesday evening finish line of the Town Challenge Buffalo Pass Hill Climb, way up at the Summit Lake parking lot, the two descriptors fit the nearly all-uphill course - afternoon rain created a nice gripping surface on the normally dusty road and the parting clouds revealed some stunning views.
Not that any racers noticed them on the way.
The task at hand for all the pro/open, expert and sport division riders was an 11-mile, 3,500-foot slog from the Routt County Road 38 / CR 38 A intersection at the valley floor up to the Continental Divide.
"I just think of a string attached from me to the next guy," said Men's Sport 50-plus second-place finisher Tom Keenan. "You just try and stay within yourself. There's not a whole lot of strategy."
Simple focus was all it took for many racers.
"I had popsicle vision leading me," Novice 50-plus rider Brian Small joked of the finish line reward that acted as his invisible carrot leading him up the hill.
For Small's division friend and rival Rick Denney, it was the competitive company that kept him going.
"We dole it out for a while with one another - it's good to have someone to pace you," Denney said. "It's easy to slack if no one is in front of you or on your heels."
The race to a common finish fueled competitors across skill divisions in the eight-race series' only event that has a mass start for all adult age divisions.
"Sometimes you get stuck in an abyss by yourself," Kelly Boniface said. "But this one, we all ride together."
Boniface registered the fastest women's time (1 hour, 16 minutes, 12 seconds), followed by Katie Lindquist in second (1:21:41) and Kate Rench in third (1:29:44).
On the men's side, it was all Bark and Mark to the finish.
Mark Iverson hung with perennial Hill Climb winner Barkley Robinson as long he could, until Iverson said, "he gaped me right at about halfway."
Robinson, fresh off 28th-place, cross-country pro division finish at the weekend's 2007 Snowmass NORBA National, finished what he called a very "roadie" Hill Climb in 1:02:04 - a minute shy of the local record. Iverson finished in 1:02:47 and Peter Kalmes finished in third (1:05:31).
Robinson wasn't the only one whose National's finish catapulted him up the hill. Adam Parke, a 17-year-old who won the junior expert men's division of the short track cross-country event in Snowmass and finished third in the event's National Mountain Bike Series overall point standings, raced up with the Hill Climb's pro/open men, taking eighth place.
While Iverson attached a front brake to his vintage teal GT Zaskar, most racers just donned extra layers for the cruise back down the dirt road.
The next Town Challenge, August 24 at Mt. Werner, is the final mountain bike series event of the summer. Visit www.townchallenge.com for more details.
- To reach Dave Shively, call 871-4253
or e-mail dshively@steamboatpilot.com