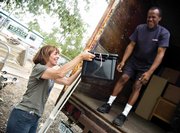 Steamboat Springs — Ali Berka's children will start school in two weeks in a mobile classroom in a field adjacent to the George P. Sauer Human Services Center.
On Wednesday, Berka, along with about 75 parents and community members, had their first chance to review the Soda Creek Elementary traffic plan and ask questions during one of two information sessions at Steamboat Springs High School.
Todd Ficken, the Steamboat Springs School District's project manager for the construction project, presented the traffic plan, which addressed student drop-off, parking and other issues.
"The only difference (from previous drafts) we had was that we had asked the city to make Pine Street a one-way street," he said. "The city decided that wasn't in the best interest of the community at large."
Pine Street will continue to be a two-way street, but a 30-foot-wide area of asphalt from Eighth Street to Seventh Street, will be barricaded with three-foot-tall concrete dividers to create a play area for children.
"There will be no driving in there, no pickup - they will be totally enclosed," he said.
An additional three-foot-fence will be erected on top of the dividers to protect children from road debris and to keep play materials from falling into the street.
Three drop-off areas have been designated. Students in first grade through fourth grade are to be dropped off on Seventh Street. Students in grade five are to be dropped off on Eighth Street, while preschool parking also will be available on Eighth Street.
"If you are dropping off your child in the morning, you must be ready when you stop your car for your child to exit immediately," said Soda Creek Principal Judy Harris. "Let the kids out, we will take care of them from there, and try to get out so we can get people through."
Kindergarteners should be dropped off at the corner of Aspen and Seventh streets. School buses will drop students off on Aspen Street.
To ensure safety at nearby intersections, crosswalks have been created leading to the Human Services Center. A four-way stop will be installed at Seventh Street and Aspen Street to slow traffic through the student drop-off area.
"You are going to be seeing a bunch of new signage all around this block," he said.
Ficken noted that planning a traffic scenario that addressed student drop-off areas was the easy part. The hard part was finding enough parking spaces for parents and staff.
"We have represented all along that parking is going to be a problem," said Ficken, who noted parking spaces on the west side of Seventh Street have been removed to create the student drop-off area.
"I know we are going to have parking problems; it's going to be an inconvenience : but there are some ideas, like parking in some vacant lots or riding the shuttle back and forth."
Ficken added that the easiest solution to ease traffic congestion around the Human Services Center would be to send students to school by bus.
Harris said school district staff will host an open house from 4 to 5 p.m. Sunday, Aug. 26, in the modular classrooms.
"All the parents and all the kids can come in and see where their classroom is and what it will look like," she said. "It will be an opportunity for grades one through five to come in and look around and get excited for school to start the next morning."
Some parents suggested redrawing bus routes to maximize the number of students who ride school buses, but Ed Dingledine, the district's director of transportation, said he couldn't add any new routes because he is short staffed.
"We've got the buses, but we just don't have anyone to drive them," he said.
Harris said she knows she can't please everyone, but she urged patience and she said the construction provides a chance for school staff to break away from old norms.
"I know that everything I say will not fit every student's and every parent's needs," she said. "But this is an exciting time, challenging, but exciting."
Berka said she was pleased with the traffic plan and the layout of the temporary school facility.
"They are going to have fun. I'm really not worried, but I just came here to see where I need to take them," she said. "The only reason the kids will freak out is if the parents freak out."