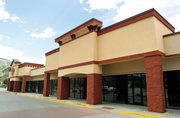 Steamboat Springs — Dollar Tree, with 3,334 stores and $971 million in second quarter sales, is seeking a building permit that would allow it to open a new store in Steamboat Springs.
Dollar Tree tentatively plans to spend about $159,000 on a tenant finish at Central Park South shopping center near the Village Inn restaurant. The company's calling card is based on the fact that everything in the store, from writing and paper supplies, to calculators and seasonal decorations, is priced at $1.
Central Park Plaza is owned and managed by THF Realty of St. Louis, Mo. The shopping center also houses Wal-Mart and City Market. Dollar Tree is poised to take 8,000 square feet in the center. That's very close to the average size of a Dollar Tree store.
Central Park South is a recent expansion completed in 2005. The quick serve burrito chain, Qdoba, became the center's first tenant that fall. Several commercial spaces in the new building have never been leased. However, leasing has been picking up recently with the announcement earlier this summer that Golf Etc., Mountain Temp Services and Real Living real estate would open in the center.
Other stores in the center include Mountain Eyeworks and My Wireless Verizon store.
Pier 1 imports had filed for a building permit to open in Central Park South in the spring of 2006 but that lease was never finalized.
Dollar Tree's corporate literature describes the shopping experience at one of its stores as the "thrill of the hunt."
"We have worked hard to create an environment where our customers can discover new treasures every week, where families can enjoy looking for that special something," the literature reads.
The variety of merchandise is described as gift bags, party supplies, housewares, seasonal decor, candy and food, toys, health and beauty care items, gifts, stationery and books.
Reuters news agency reports that about 35 to 40 percent of the company's merchandise is imported, with most of it coming from China.
Dollar Tree is based in Chesapeake, Va., with distribution centers in nine states with the closest to Steamboat Springs being in Utah.
A press release issued Aug. 9 at the time of the company's second-quarter earnings report touted a 9.9 percent increase in sales from $883.6 million to $971.2 million last quarter.
Dollar Tree trades on the NASDAQ exchange under the DLTR symbol. Shares were trading at about $37.50 on Tuesday.
Neither Dollar Tree spokesman Tim Reid nor THF leasing agent Justin Brockman returned phone calls seeking comment.