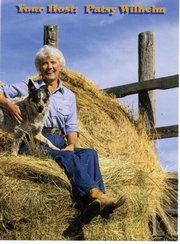 In memory
Longtime Routt County resident Patsy M. (Truax) Wilhelm passed away Friday, Aug. 10. A memorial service will be held on Friday, Aug. 24 at 10 a.m. at the Steamboat Christian Center, at 821 Dougherty Road, south of downtown off U.S. Highway 40. A lunch will follow at noon at Olympian Hall, in the Howelsen Hill Lodge on Howelsen Parkway. In lieu of flowers the family ask that you make a donation to the Routt County 4-H Scholarship Fund at P.O. Box 772830, Steamboat Springs, CO 80477. Please note "Patsy Wilhelm" in the memo field.
Steamboat Springs — Patsy Wilhelm refused to act her age.
"She was still running the family's outfitting business, she ran sleigh rides in the winter and she ranched," said Kim Gittleson, Wilhelm's daughter. "She was 67 years old, but she didn't know it."
Wilhelm, a lifelong rancher who lived nearly all of her years on the family's Sunset Ranch, died of a stroke Friday at a hospital in Loveland.
She worked right up until the end.
"Wednesday night she was moving cows, and Thursday morning she had a stroke," said Rick Wilhelm, one of Patsy's three sons. "That's what she wanted to be doing. She was mad at them at the hospital the other day because she needed to get home to the hay field, but they wouldn't let her leave. That's the way she always was."
Patsy Wilhelm was born in November of 1939 in Julesburg to Lloyd and Arlene Truax.
The family moved to Routt County in early 1940 and leased several ranches before purchasing the Elk River Road and Routt County Road 44 property that would become Sunset Ranch, where Wilhelm outfitted hunting trips, horseback rides and winter sleigh rides for years.
"She was great with people, as an outdoorsman and an outfitter. She was a great entertainer," said Routt County Commissioner Doug Monger, who grew up with Wilhelm's children.
Wilhelm's outgoing personality was a fixture at Steamboat Springs' annual Winter Carnival.
"In one way or another, I've been skiing or pulling skiers for 58 years," Wilhelm said at the 2007 carnival, when she spent a Saturday pulling skiers down Lincoln Avenue on her galloping horse. "Before me, my dad rode."
In 2001, former Colorado Gov. Bill Owens proclaimed Feb. 5 to 11 "Winter Carnival Street Events Week Honoring Patsy Wilhelm." That same year, she received the Winter Carnival Western Heritage Award.
That heritage began with life on the ranch.
Patsy Truax married her high school sweetheart, Richard L. Wilhelm, on Nov. 5, 1956. They were happily married until the time of Richard's death in 1978.
"Mom kept us in line and made us work hard, but it gave us character," Gittleson said. "When we were growing up, we had a custom haying business, so we definitely all had chores."
Working on the ranch was Patsy Wilhelm's only hobby, Gittleson and Rick Wilhelm said. Patsy also worked hard to conserve the land she loved.
"She sought, in her wisdom, to put a conservation easement on her property," Monger said. "And she used the purchase of development rights (program) to enable preservation of her land, and some of the land behind it : she stepped up to the plate quite a bit with that concept."
Routt County resident and rancher Jo Stanko said Patsy Wilhelm was "always willing to lend a hand, and to be one of the first to help people out."
"She was always there," Stanko said.
Bethany Aurin, a close friend, said she misses Patsy Wilhelm every day.
"She was not only the matriarch of her family, but of our valley," Aurin said. "She was just an incredible, incredible human being. I sure am glad to have known her."