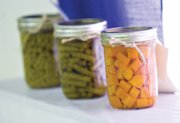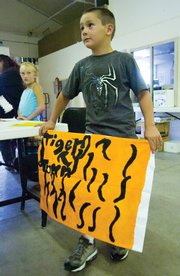 Steamboat Springs — Aaron Gabel's Wednesday was full of cake.
Not only was it Gabel's fourth birthday, it also was the first time the bright-eyed little boy entered something at the Routt County Fair.
Although he wasn't very interested in filling out his tag, his mother, Kasey Gabel of Hayden, filled out his name and what he was entering - a lemon-flavored SpongeBob SquarePants cake.
"He loves it," Kasey Gabel said of having her son in the kitchen. "I give him all the ingredients to mix the cake, he blends it all together and licks the bowl, of course."
Aaron Gabel entered his cake in the "Mommy and Me" category during Wednesday's home arts check-in. Entries in canning, baking, clothing, quilting, photography, art and more were handled from 1 to 8 p.m. Open judging of the home arts entries begins at 9 a.m. today. The judging is open to the public.
Jill Altman, Fair Board coordinator, said Routt County has one of the strongest home arts exhibits in the state.
More than 1,300 entries were received in 2006, a record-breaking year for the exhibit, she said.
"Home arts is huge for our fair because it's sort of dying in other counties," she said. "Home arts exhibits are your more traditional skills like canning, needlework or baking."
Altman credits a strong 4-H program that encourages tradition and several countywide programs dedicated to preserving agricultural heritage as to the home arts exhibit is healthy.
"We're running out of room, we get so many things," she said.
Encouraging young people such as the Gabels to enter the fair is what it's all about, she said.
"We want people to participate in their fair," she said. "It's like a big county block party."
Altman said home arts is unique because it gives people of all ages to enter anything they want, from Lego houses to SpongeBob cakes.
"We don't have a clue what they're going to bring in," she said.
Clark resident Dee Graves entered several of her canned vegetables Wednesday. Graves has been canning "seriously" for 20 years.
Graves, who is the fair's canning superintendent, said the tradition is a good way to preserve food.
"I like to know where my food came from, who's handling it and that it's the highest quality possible," she said.
Dozens of canned fruits, vegetables, jams and jellies filled shelves last year, including a dandelion jelly, she said.
"It was beautiful stuff," she said. "It gets really pretty when all the shelves are full."
Graves said her canned vegetables come in handy when the weather turns.
"I don't buy vegetables all winter," she said. "Especially when you live in Clark. Who wants to drive to Steamboat Springs in a blizzard for some string beans?"
The home arts wine and beer exhibit is Friday afternoon. Judging begins at 6 p.m.