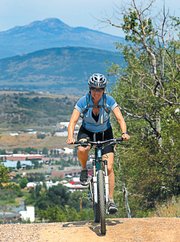 If you go
What: Celebration of the Emerald Mountain Land Exchange, with Western barbecue and music by the Yampa Valley Boys
When: 5 to 7 p.m. today
Where: Brent Romick Rodeo Arena
Contact: To RSVP, call city official Ginger Scott at 871-8215. For more information, call the Little Snake Field Office of the Bureau of Land Management, in Craig, at 826-5000.
For more
See a map of the Emerald Mountain site, made by the Bureau of Land Management, on the Web at www.blm.gov/co/st.... To get involved with developing and planning Emerald Mountain's future, join the Emerald Mountain Partnership, which needs three board members. Call Paul Strong at 879-9211
Steamboat Springs — It took more than 13 years to get this party started.
But after years of work and collaborations by multiple agencies, the community has a chance to celebrate a vast expansion of public lands on Emerald Mountain, just south of Howelsen Hill. Tonight's event, which kicks off at 5 p.m. at the Brent Romick Rodeo Arena, celebrates the successful exchange of 4,139 acres of land from the Colorado State Land Board to the federal Bureau of Land Management. The BLM will open the land for public use and recreation and preserve it from future development.
"The State Land Board was talking about transforming this (site) from a rural portfolio to an urban portfolio, which means they could have sold it for development," said Steamboat Springs City Councilman Paul Strong. "This exchange means we won't have 100 houses up there, and it means this land is open for public access : it has been illegal to hike and bike on that property."
Thursday's event will feature Western-style barbecue and music from the Yampa Valley Boys, with several politicians and environmental officials - including Republican U.S. Sen. Wayne Allard, state Rep. Al White, R-Winter Park, and Britt Weygandt, director of the state Land Board - scheduled to attend. Jim Hughes, interim director of the BLM in Washington, D.C., will give the keynote address.
"We're very excited about that," Strong said. "This exchange very well may not have happened without him."
Strong is a member of the Emerald Mountain Partnership, a group of concerned community members and local government officials who led efforts to conserve the Emerald Mountain land. The land is east of Routt County Road 45, also known as Cow Creek Road. The partnership will guide planning of trails and land use at the site, aided by a $30,000 grant from Great Outdoors Colorado.
Partnership member and City Councilman Ken Brenner said that in addition to recreational uses such as hiking and biking, the Emerald Mountain site will continue to provide valuable wildlife habitat and land for agricultural uses.
In exchange for the Emerald land, the BLM will give the Land Board more than 15,400 acres of federal land on 123 isolated parcels scattered throughout Routt County. Many of those parcels are surrounded by private land.
John Husband, field manager at the BLM's Little Snake Field Office in Craig, praised the land exchange and said he is excited about Thursday's event.
"Emerald Mountain is going to be a very valuable parcel for the public to enjoy into the future," Husband said. "I think it's going to be great for years to come."