County sifting through South Routt shuttle survey results
Thursday, August 16, 2007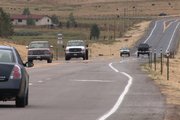 Steamboat Springs — Stagecoach resident Chris Zuschlag, like many of his South Routt friends and neighbors, was excited when county officials sent a survey to residents to gauge interest in a regional shuttle service.
"I see a huge need for it here with all the growth going on," he said.
And the survey results are in.
"We had great response from all four South Routt communities," said County Manager Tom Sullivan on Wednesday. "It was very encouraging."
The county received 135 "informal, nonscientific" surveys from residents in Oak Creek, Yampa and Stagecoach. Of those, 103 people expressed interest in using a shuttle service. Thirty-five people were not. Most people said they would use the service between two and four times a week, with some people using it as much at seven or more times a week if the service were provided.
Bringing alternative transportation to South Routt is something near and dear to Routt County Commissioner Diane Mitsch Bush's heart.
"This is something the people need," she said. "Providing this service is very important to everyone's quality of life."
Zuschlag agreed.
"It's the green way to go," he said. "It makes sense."
Mitsch Bush recently applied for a federal grant worth $89,000 to help pay for the service. The grant is administered through the Colorado Department of Transportation, who already provides federal grant money to Steamboat Springs Transit and the Routt County Council on Aging.
Because CDOT already provides grant money to two agencies in Routt County, the grant is a long shot, she said.
Another challenge is accurately representing South Routt's population. Because Stagecoach is not a municipality, its population is not represented in U.S. Census data, which makes South Routt look smaller than it is, she said.
"After a conversation with (CDOT officials Wednesday), I'm less optimistic that we'll get anything," she said. The county will find out in September how much money, if any, it received.
Despite some apparent challenges in receiving federal funding, Mitsch Bush said the county would continue to pursue some kind of transportation program.
"We're trying to look at multi-modal transportation," she said. "The only way to reduce congestion and the impacts of commuting is to encourage other forms of transportation."
Sullivan said the county's next step is to digest the survey results, create a plan and go back to South Routt residents with a clearer shuttle route proposal.
"We need to figure out what our options are," he said. "We obviously realize there would be fewer cars on the roads and less impact for people coming to Steamboat Springs from South Routt. There's some real value in that."
Sullivan said a similar South Routt shuttle service was ended several years ago after it failed to garner enough ridership.