Sports briefs for August 15
Wednesday, August 15, 2007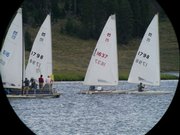 Steamboat Springs — Conditions perfect for Scowboys' Regatta
Conditions couldn't have been more perfect for the sixth annual Steamboat Scowboys' Regatta, on Saturday and Sunday at Steamboat Lake.
Warm temperatures, "good wind, clear air and a late evening meteor shower," provided organizer Harv Holtzman with the ideal environment to host a series of six races for the identically-designed, 16-foot MC Scow race sailboats.
"With identical boats, races are determined by handling ability, testing your tacking and your downwind sailing skills," said Holtzman, who coordinated the event with his wife, Rachel Bellis, and Jeff and Karen Simon.
As Colorado's main MC Scow competition, Holtzman said the event typically pulls around 30 percent of its competitor pool from out of state. This weekend was no different, with 10 race sailboats coming from out of state.
Four local competitors (which included Holtzman, Theo Dexter and Lois and Craig Kocian) raced on their home turf in a "windward-leeward" format event similar to an America's Cup race. The race started with the boats tacking to a windward buoy, racing back downwind to the start, and then back windward to the finish.
Dallas resident Jack Kern won the races overall, followed by Denver's Scott Cameron in second and Holtzman in third.
The staffs of the Steamboat Lake State Park, Steamboat Lake Marina and Steamboat Lake Outfitters helped with the regatta, which was sponsored by New Belgium Brewing Company.
All-uphill Buffalo
Pass Hill Climb today
The all-uphill Buffalo Pass Hill Climb is today, marking the seventh of eight races in this summer's Steamboat Springs Town Challenge Mountain Bike Series.
It also marks the 10th anniversary of the race. In honor of the anniversary, Town Challenge series director Gretchen Sehler offered a challenge to this year's riders, reminding them of the course records.
British national mountain bike team member Nick Craig has posted the only sub-hour time on the full, 11-mile course that climbs more than 3,500 feet to the Summit Lake parking lot.
In 2003, Ian Pritchard posted the fastest local time in 1 hour, 1 minute, 34 seconds and Kirsten Ames' 1999 time of 1:03:05 still stands on the women's side.
Pro/open, all-expert and all-sport division riders begin on a paved section of Routt County Road 38 that climbs gradually on pavement and "pretty hard and solid" dirt road before hitting the Dry Lake Campground, where it becomes a bumpy, yet fairly non-technical haul to the top.
Sehler said that the road will remain open to vehicles, whose drivers should remain aware of the race times. Registration closes promptly at 5:15 p.m. and all adult divisions (including junior 16 to 18) will hit the road up the pass at 5:30 p.m.
Sehler reminded racers to prepare to race, rain or shine, and to bring warm clothes for the ride down and that a support vehicle will be available to shuttle packs to the finish.
Visit www.townchallenge.com for a full course map and youth division start times.
New snowboard
technical director named
The Steamboat Ski & Snowboard School named Scott Anfang - a member of the American Association of Snowboard Instructors' Snowboard National Team - to the position of Snowboard Technical Director on Monday.
"We are delighted to have someone as talented and accomplished as Scott move into a leadership position with the team," Jim Schneider, vice president of skier services for Steamboat Ski & Resort Corporation said of Anfang, who he called, "a seasoned clinical veteran."
The California native has worked at Steamboat since 1995 and moved to staff trainer for the resort in 1997. Anfang will now be responsible for training and development of Steamboat's snowboard staff, products and curriculum, instructing as well as managing both guest services and development of the resort's terrain features and clinics.
"In my new role, I want to spend more time with Steamboat's snowboard instructors working on enhancing education, promoting strong riding skills and simply enjoying and creating the ultimate experience for our guests," Anfang said.
Triathlon volunteers
needed for Aug. 26 event
The 2007 Steamboat Springs Triathlon, on Aug. 26, is once again sold out.
But volunteer coordinator Joy Rasmussen still needs assistance.
"Volunteers can experience first-hand what it's like to race in a triathlon without having to partake in any training," Rasmussen said. "Body markers, timers, course marshals, directional officers and race line finisher assistants are all needed : (It's a) great way to meet people."
Community service credit also is available for volunteer times, which typically last two to three hours, beginning at 5:30 a.m. on race day, or on Saturday during race packet pickup. Contact Rasmussen at 846-8678 or email joy@mybrokers.com.
Middle school football
tryouts Saturday
Equipment handout for Steamboat Springs Middle School football will be Saturday at the middle school. Eighth-grade players should arrive from 9 to 10:30 a.m. and seventh-grade players from 10:30 a.m. to noon. Daily practices start at 4 p.m. Monday.
Call coach Gantick at 879-3253 or 846-1896 with any questions.