Jailer under investigation
Incident with teen girl in Larimer County leads to suspension
Wednesday, August 15, 2007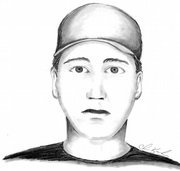 Steamboat Springs — A Routt County Sheriff's Office jailer has been placed on leave following an incident involving the jailer and a teenage girl in Larimer County.
Larimer County Sheriff James Alderden said a man in his mid-20s, who was wearing a black polo T-shirt with "Sheriff" and a badge embroidered on it, approached an 18-year-old woman around 12:30 a.m. at a convenience store in Larimer County asking her for directions to "Club Opulence" and several personal questions such as where the girl went to school and if she had a boyfriend. The man also asked the girl to get in his car, he said.
After the girl refused to get in the man's truck, a gray four-door Dodge pickup, the man reportedly circled the gas pumps twice, watching her, he said.
At the time, police thought the man could have been a police imposter, he said.
The incident was a lead story on several Denver-area newscasts Monday night.
The man, later identified as a newly hired Routt County Sheriff's Office detention deputy, called the Larimer County Sheriff's Office on Tuesday after seeing a composite sketch of himself during media coverage of the incident, Alderden said.
The man's name is not being released by either agency.
The Larimer County Sheriff's Office is not pursuing criminal charges, Alderden said. But Routt County Sheriff Invest-igator Ken Klinger said the office is conducting an internal affairs investigation.
"Clearly his actions alarmed the young woman enough to call us about the incident," Alderden said Tuesday. "We're very sensitive in Larimer County to these types of cases. At this point, we just want to clear up what he was doing - it might just be an incident of questionable judgment."
Klinger said he has never handled such an incident during his 13-year employment at the Sheriff's Office.
"This is really unfortunate. It's something we're very concerned about," he said. "We've never had anything like this happen at the agency before."
Klinger said the investigation could result in the man facing disciplinary action or termination. "That will all be up to the sheriff," he said.
All Sheriff Gary Wall could offer Tuesday was "we're looking into it."
Klinger said the deputy was a new hire who has been at the Sheriff's Office for less than six months.
The deputy was in a private vehicle at the time of the incident, Klinger said. Klinger said he didn't "have a clue" why the man was in Larimer County.
- To reach Alexis DeLaCruz, call 871-4234
or e-mail adelacruz@steamboatpilot.com