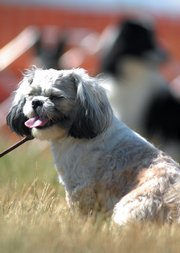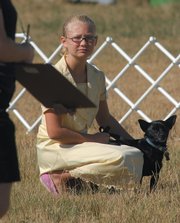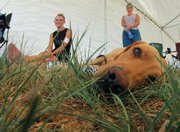 Hayden — Hayden resident Karen Brown is more than happy to have her daughter, Anna, 14, participate in events at the Routt County Fair.
"It's a good program," Brown said. "It keeps them busy, keeps them learning, keeps them off the street :"
"Plus it looks really good on a college application," Anna chimed in.
Anna showed her 16-month-old border collie, Leo, at the fair's dog show Monday. She also is showing sheep at the fair and looks forward to selling her animals in the Junior Livestock Sale on Saturday. Animals are known to sell for hundreds or thousands of dollars above their market value in the sale, and Anna said she would put the money she makes toward a college education.
Anna, who has been showing her dogs since she was 8, was one of nine participants in the dog show. Organizers said all nine entrants were children. Anna has two other dogs and said she likes to participate in the dog show because it "keeps them obedient." She said the hardest part was keeping Leo from being distracted by livestock, motors, loud noises and other dogs while being judged. In the senior open division, Anna and Leo placed first in showmanship.
While Anna is somewhat of a veteran at the dog show, others were participating for the first time. In a yellow dress, 9-year-old Shannon Ragan of Steamboat Springs led her Chihuahua mix, Beau, around the ring following the judge's instructions. Afterward, Shannon said she had fun in her first year and that Beau did well, but that getting him to obey some commands was a challenge. Shannon placed first in the junior novice division of showmanship.
Jessika Hockett, 8, of Hayden, also participated for the first time with her blue heeler/border collie cross, Macie. Jessika said she decided to do the dog show "just for something more to do in the summer and to get more time with Macie." She said she has been training with Macie since about May.
Jessika's mom, Kathy, said she was supportive of her daughter doing the dog show so that Macie would get better at obeying Jessika. Hockett said the dog recognizes that Jessika is the youngest in the family and sometimes doesn't obey her as well as others in the family. The summer of training seems to have done the trick; Jessika placed first in the obedience category in the subnovice A division.
The Routt County Fair continues today with livestock stalling, a horse show, a royalty contest and the swine weigh-in.