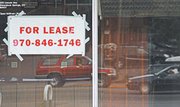 Steamboat Springs — Steamboat Springs' total sales tax collections continued a steady rise over last year, but officials are concerned with downtown sales, which were down for the fourth straight month.
The city collected $1,489,000 in sales tax in June, compared with $1,377,216 in June 2006, an 8.12 percent increase. Sales tax is up 8.61 percent year-to-date. The downtown area was the only area to show a decrease in sales tax revenues - down 5.59 percent from $270,091 in June 2006 to $254,986 in June 2007.
Tracy Barnett, executive director of Mainstreet Steamboat Springs, called the figures from downtown "depressing." Surprisingly, the area showed increases in three out of four categories: lodging, restaurants and sporting goods. A 17.5 percent decrease in miscellaneous retail, however, dwarfed those gains.
Decreases in downtown business often are blamed on downtown construction, but the extent of the losses suggests something else is at work. City Councilman Paul Strong said construction has a big effect but that he expected downtown sales tax to stay flat or decrease only slightly, not decrease nearly 6 percent.
"The magnitude is surprising to me," Strong said.
Finding answers poses a challenge.
"We don't have a way to find out what is causing all that," Barnett said. "There may be people who are flat avoiding downtown."
Barnett said she is looking forward to an economic index being formed by the Routt County Economic Development Cooperative that will provide more insightful measurements than sales tax figures alone. In the meantime, she said the decreases could be the result of a multitude of factors, from gas prices to less tourists in town. The closing of two downtown convenience stores - Go-Fer Foods and the Shell station at Third Street and Lincoln Avenue - also may be contributing to the drop in miscellaneous retail sales tax revenues.
"I'm sure that makes a big difference," Strong said. "There's no place else downtown for people to go to for those services."
Businesses filing their sales tax figures late also could be playing a role, albeit a small one.
"Even if it goes up a little bit, it's still off - and it's been off since last November," Barnett said.
The largest sales tax growth in town was seen in West Steamboat, where collections rose 16.81 percent from $198,026 in June 2006 to $205,463 in June of this year. Strong said he was surprised by that increase.
Steamboat's sales volume of $37,225,000 in June was higher than that of Vail and Breckenridge, but behind that of Aspen and Glenwood. Steamboat's 8.12 percent increase in June sales volume was lower than all four communities.