Horse trainer recovering from fall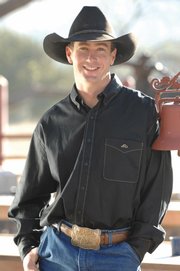 Steamboat Springs — Longtime Routt County resident and horse trainer Jason Patrick is recovering at home after fracturing his skull and eye socket during a horseback riding accident Wednesday.
Patrick said he was trying to break a 7-year-old female horse Wednesday afternoon when the horse began bucking and couldn't be controlled.
"She was doing fine for about two hours, then she just started bucking like crazy. I couldn't get her to stop, and she bucked me off," he said Saturday afternoon. "I landed on my head pretty hard."
After the fall, Patrick walked home and had his wife drive him to the hospital. Patrick was flown to a Denver hospital for observation but did not undergo surgery, he said.
"I had so many fractures they said it'd have been too much metal," he said.
Patrick returned to his Steamboat Springs home Friday night and said he is going to "take it easy" to allow his injuries to heal.
"I can't get on a horse for six weeks, that's the real bummer," he said.
Patrick recently was featured on the County Music Television show "America's Top Cowboy."
- To reach Alexis DeLaCruz, call 871-4234
or e-mail adelacruz@steamboatpilot.com