Horse show opens county fair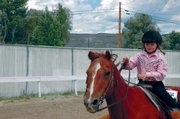 Hayden — The Routt County Fair got off to a well-attended start this weekend with a series of horse shows. According to organizer Alicia Samuelson, about 160 horses participated in events Friday, Saturday and Sunday. Riders competed in a variety of age groups, and Samuelson said the youngest rider was 5 and the oldest 68.
Samuelson's daughter, Fair Queen Kelsey Samuelson, 17, competed in horse show events this weekend on her quarter horse, Lightening. Kelsey Samuelson, who will be a senior at Soroco High School, said she has been riding horses since she was only 2 years old. Kelsey Samuelson has a busy week ahead of her. In addition to her own participation in the horse show, cattle showing and other events, she must attend every other event too as the fair's queen.
Kelsey Samuelson said she was most looking forward to selling her steer in the Junior Livestock Show on Friday. Animals usually sell for hundreds or thousands of dollars more than their market price in the auction, and Kelsey Samuelson said she plans on using the money for college. She had the grand champion steer last year.
Jim and Jocelyne Hillmuth of Milner had all three of their home-schooled daughters participating in horse shows Sunday. Amecy, 10, Lausanne, 9, and Genevieve, 6, competed against each other in the same age division. Jocelyne Hillmuth said riding horses has taught her daughters' focus and responsibility, in addition to providing good friends and mentors.
"It makes them very safety conscious," she said. "It gives them respect for something outside of themselves."
Amecy said she has made a lot of friends riding horses. She was riding a 10-year-old horse, Captain, that she said has a funny personality. Captain is a former racehorse, and Amecy said she doesn't really like to go fast on him but will if she has to in a competition.
Jocelyne Hillmuth said she sometimes gets nervous watching her youngest daughter Genevieve moving fast atop a horse, but the 6-year-old seemed just as competent as any other rider Sunday as she purposefully guided her horse around a series of barrels in a competition.
"She's fearless and very coachable," Jocelyne Hillmuth said.
The Routt County Fair continues today with a dog show at 9 a.m. and 4-H/FFA horse shows in the afternoon and evening.