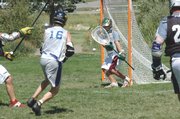 Steamboat Springs — The Steamboat Springs men's club lacrosse team got everything it wanted out of the Steamboat Lacrosse Tournament, except for its name on the championship plaque.
Despite falling to the Denver Hooligans in the championship game, 9-3, Steamboat came away from the two-day tournament with a 3-1 record and a guarantee the program will remain competitive for years to come.
"This weekend went perfectly," defenseman John Worden said. "It went as well as I think I could have hoped for."
Maybe the win that said the most about the team came in a 6-5 semifinal win against Vail.
After Vail jumped out to a 4-2 lead at halftime, Steamboat didn't wilt. Behind a rousing speech from Worden and solid play at all three levels, Jake Flax tied the score at 5-5 with five minutes to go.
Then, Dave Shively put the Bonesaws ahead for good with a rocket of a shot from the top of the slot.
Steamboat goalie Andy Flax did the rest, making two saves in the final two minutes to put the Bonesaws into the finals.
"In years past, we would go down and we'd stay down," Worden said. "This year, we've got some new personnel and it's a whole lot of fun. It was looking kind of bleak there for a while, but to beat Vail twice in the same weekend, I mean that was great."
In the finals, Steamboat looked like a shell of the team that dominated the previous day.
The Bonesaws couldn't gain possession early on and struggled with penalties and mistakes.
Denver got off to a quick start, scoring the first six goals. Finally, Jesse Wichelhaus scored for Steamboat to bring the Bonesaws within 6-1.
But it was too little, too late for Steamboat as Denver scored three more times to put the game away.
"Fatigue definitely played a number," said Andy Flax, whose key saves throughout the weekend propelled the Bonesaws into the finals. "We had players playing on other teams, but the best thing was when we were down by a few, we didn't get down on each other. Our attitude was really important."