Accidents cause minor injuries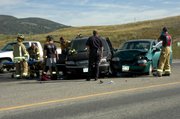 Steamboat Springs — Two accidents, including one involving a train and a semitrailer, caused minor injuries this morning along U.S. Highway 40 west of Steamboat Springs.
At about 7:45 a.m., a westbound coal train struck the back of a semitrailer owned by excavation and drilling company D&D Enterprises, Inc. The collision occurred near the Riverbend Roadhouse just west of Heritage Park. The semi was on a private driveway owned by D&D and was attempting to turn east onto U.S. 40. The truck's 52-foot trailer extended over the train tracks while its driver was waiting to enter U.S. 40. As the 106-car Union Pacific train approached the site, the semi was unable to merge onto U.S. 40 because of traffic volume, said Sgt. Jim Copley of the Colorado State Patrol.
The train struck the semi's trailer, which was empty, and pushed the trailer into a ditch while spinning the semi's cab. Copley said John Martin of Hayden, 53, was driving the semi. Jorge Hernandez of Steamboat Springs was a passenger. Both men were transported to Yampa Valley Medical Center with minor injuries.
Copley said Martin will receive a citation for the incident, but he could not specify the charge. An engineer, trainee and conductor on the train were not injured, Copley said.
The second accident occurred at about 9 a.m. at the intersection of U.S. 40 and Routt County Road 42, which leads to the Silver Spur subdivision just east of Heritage Park.
A Chrysler minivan driven by Silver Spur resident Betsy Whitmore, 34, collided with a Chevy four-door car driven by Clark resident Amanda Leftwich, 23. Leftwich was traveling west on U.S. 40 when a truck in front of her turned right onto C.R. 42. As the truck made the turn, Whitmore attempted to turn left from C.R. 42 onto eastbound U.S. 40, placing her directly in the path of the oncoming Leftwich.
Witnesses at the scene said Whitmore did not see Leftwich behind the truck. No other passengers were in either vehicle.
Steamboat Springs Fire Rescue personnel transported Whitmore to the hospital. Copley said she had minor injuries. Leftwich was treated and released at the scene.
Both drivers were wearing seat belts, said Dep. Ryan Adrian of the Routt County Sheriff's Office.
Copley said Whitmore will receive a citation for a right-of-way violation.
"I don't know how many accidents happen here," said Silver Spur resident Dana Smith, Whitmore's sister-in-law. "It's such bad visibility. All the truck traffic leaves very little visibility for cars:it's terrible."
Whitmore's husband, Fire Rescue volunteer Tyler Whitmore, was one of the first respondents to the scene.