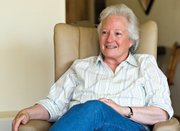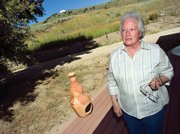 Steamboat Springs — County officials Tuesday gave final approval to an oil drilling permit west of Milner on land the Morton family has called home since 1942.
The unanimous approval by the Routt County Board of Commissioners ended a lengthy negotiation between the Comet Ridge USA oil company and brothers Kenny and Wayne Morton to settle agreements about how and where Comet Ridge will drill. The final land use agreement allows construction of a new, 650-foot road and installation of a 150-foot-tall drilling rig on the site that is west of the Milner landfill and south of the Yampa River, near U.S. Highway 40 between Milner and Hayden. Comet Ridge also agreed to conduct water quality-monitoring tests at nearby wells and springs throughout the extraction process and mitigate any contaminants found in the water sources.
After building a well pad that will impact about 1.6 acres of sagebrush, Comet Ridge will begin a 30-day drilling period and run a pipe 3,300 feet underground in hopes of finding oil.
"We would like to build the location as soon as possible," Comet Ridge Operations Manager Art Stewart said Tuesday, cautioning that well pad construction could delay drilling until the spring of 2008.
"It's very likely that we're going to run out of time," Stewart said. "We're going to do everything we can to avoid drilling in the winter."
Three Comet Ridge employees will live in trailers on the site during the drilling period, which also will bring between five and 10 contract workers to the Morton's land.
"It's just like somebody camping in your backyard," Wayne Morton said at the ranch July 19. "You can't keep them out. They've got a right to run all over you."
His family's 1,500-acre plot is used primarily for grazing and hay production. It's also a home for wildlife.
"We have about 200 head of elk in that little basin right now, and their breeding season starts in three or four weeks," Wayne Morton said. "This operation would be pretty disruptive to that."
An offer a day
Oil exploration and extraction in the area, known as the Tow Creek Anticline, dates back more than 50 years. The last two wells on the Morton ranch were dug about five years ago and came up dry, Wayne Morton said.
But new drilling technology is bringing companies like Comet Ridge back to Routt County. And they have every right to come.
While the Morton family owns surface rights to the land, they do not own rights to the minerals beneath. Comet Ridge is leasing those rights from the state of Colorado, which has directed oil and natural gas companies to develop energy resources across the Western Slope.
A report released in June by the Colorado Energy Research Institute at the Colorado School of Mines states that oil and natural gas now is Colorado's top industry, pumping $22.9 billion into the economy in 2005, surpassing tourism by about $1 billion.
While Routt County has not yet seen the huge impacts from energy development that are bringing drastic changes to counties such as Garfield, Rio Blanco and Moffat, oil exploration is increasing locally.
"We get something in the mail just about daily," Kenny Morton said about the correspondence from oil companies.
But Kenny and Wayne Morton said the times of slash-and-burn oil exploration are changing, or may even be gone. During Tuesday's permit hearing, the brothers credited Comet Ridge for efforts such as reducing noise, limiting traffic to the site and promising to minimize dust - which can ruin a hay crop - during construction of the new road.
"They've been pretty good to work with, after we got past the initial clash," Wayne Morton said. "They've done everything they said they would do."
Leverage
The Utterback family has owned land just east of the Morton property for about 100 years. But unlike the Mortons, Karin Utterback-Normann said her family owns the mineral rights for resources beneath their "few thousand acres" along Routt County Road 50.
"It gives you added leverage when you negotiate as a landowner with the mineral companies," Utterback-Normann said, adding that as the family purchased plots of land, purchasing mineral rights always was a priority.
"It's been an ongoing process," she said. "You're constantly looking to see if you can acquire those" rights.
Sitting in their newly built ranch house Thursday, Utterback-Normann and her husband, Ron Normann, said Comet Ridge is "one of the groups" that is negotiating with them for mineral exploration.
But they're not sure if they're going to sell.
"Our wealth is our land," Utterback-Normann said. "It would have to be something we can all agree to."
Such agreements have not turned out well in the past.
"Over the years, a lot of oil wells have been drilled on this property," she said. "They are all now capped or defunct : we have a leaking one, too."
"They made a mess and left," Ron Normann said of previous oil drillers.
But Utterback-Normann noted that the oil industry benefits the county's economy and employment opportunities, and is a growing part of Routt County's future.
"Routt has kind of always been off on the side (of energy development)," she said. "But I think it's going to come:I don't think we have any feel yet for how much we're going to be impacted. I think it's beyond what we can imagine."
An ongoing effort
State lawmakers, particularly state Rep. Kathleen Curry, D-Gunnison, have been battling for at least the past three years to increase the rights of surface owners facing energy development on their land.
This year, state Rep. Ellen Roberts, R-Durango, scored a minor victory with the passage of House Bill 1252, which Gov. Bill Ritter signed into law May 29.
The bill "finds that substantial increases in the amount of oil and gas operations and the number of rural residents has created numerous conflicts between surface owners and oil and gas operators," and sets guidelines for collaboration between landowners and energy companies.
"An operator shall conduct oil and gas operations in a manner that accommodates the surface owner by minimizing intrusion upon and damage to the surface of the land," the bill states.
But the guidelines do not set specific criteria or standards, and contain open-ended language.
"The standard of conduct set forth in this section shall not be construed to prevent an operator from entering upon and using that amount of the surface as is reasonable and necessary to explore for, develop, and produce oil and gas," reads a clause in the bill.
Steamboat Springs City Councilman Ken Brenner, an active participant in oil and gas conversations statewide, said legislation that broadens the makeup of the industry-regulating Colorado Oil and Gas Conservation Commission could bring changes to the amount of rights for landowners.
"My guess is that we'll see this issue revisited again," Brenner said. "I don't know if we'll look like Rifle anytime soon, but we're certainly going to have some enormous impacts from the (oil and gas) industry."
To reach Mike Lawrence, call 871-4203
or e-mail mlawrence@steamboatpilot.com