Trot around the block
Carriage rides pump Western flavor into downtown Steamboat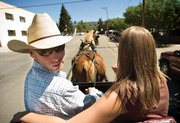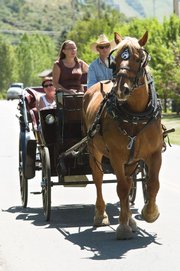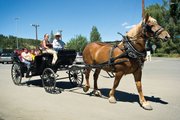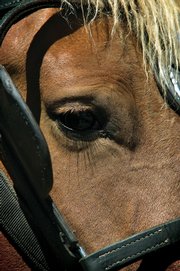 Steamboat Springs — Living in Las Vegas doesn't always provide the type of exposure to the outdoors and the Old West that residents living in Steamboat Springs experience daily.
On Thursday, two Triple Crown baseball fanatics from the arid Nevada desert climbed aboard a vintage carriage pulled by Jane, a 7-year-old Belgium draft horse.
"It was laid back," said Jerrel Latham, 11, after the brief ride down Howelsen Parkway.
"Yeah, it was really smooth and relaxing," said Kai Domingo, 12.
And that's the point.
Justin Moore, owner of Yampa Valley Carriage Co., has been taking people for historic carriage rides along the streets of downtown Steamboat Springs since mid-June. The weekly rides, which will continue through mid-September, was another way to expose downtown visitors and Routt County residents to the Old West heritage that Steamboat has long embraced.
"It's amazing to think people used to cross the country like this," said Moore, who's been in the horse-drawn carriage business for 2 1/2 years with his fiancee, Becca Smith. Moore previously guided carriage and sleigh rides on ranches.
Moore used to offer carriage rides in Ski Time Square. Moving the rides downtown has resulted in more customers, a surprising number of whom are locals, Moore said.
And even longtime Routt County residents are amazed at the size of Moore's horses.
"It's funny, because the No. 1 reaction we get from people when they see Jane is, 'She's huge' or 'Look at her feet,'" he said. "She's definitely an eye-catcher."
Jane, who was Amish bred in Indiana, doesn't have a problem with the downtown traffic, and she obeys traffic laws as if she were a car, he said.
"She was broke to drive a team. She just began driving alone last summer, and now, she's on her own on the streets, which is pretty amazing," he said.
Smith said taking a carriage ride is a Steamboat highlight.
"A lot of people come to Steamboat for our horses," she said. "They're a big attraction."
Children in particular are thrilled by the rides, she said.
"It's like magic," she said. "It's so exciting for them because it's like nothing else."
Tracy Barnett, executive director of Mainstreet Steamboat Springs, said she would ride along for hours on end when Moore first began offering the rides.
"I love the 'clippity-cloppity' sound of the horseshoes on the asphalt," she said.
Barnett said seeing a draft horse downtown is what Steamboat Springs is all about.
"It shows we still have that Western flavor," she said.
Moore will continue to offer the carriage rides from 4:30 to 8:30 p.m. Thursdays. The rides are about 20 minutes and cost $10 for adults, $5 for children 5 to 12, and free from children younger than 5.
For more information, call Moore at 846-0982 or visit www.yampavalleycarriagecompany.com