Tour de Steamboat cycling event brings riders together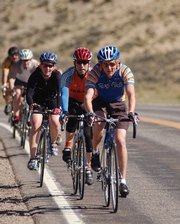 Steamboat Springs — Cyndy Mansur and Rupert Laumann met five years ago during the Bicycle Tour of Colorado. Mansur, now a Hayden resident, and Laumann, who lives in Tucson, Ariz., kept in touch through the years and eventually started dating.
With Laumann in town for a visit, the couple couldn't think of a better way to share a date than riding over three mountain passes and more than 100 miles in one of the most intimate bicycle tours in the state - the Tour de Steamboat.
"It will be fun," Mansur said before the start of Saturday's ride. "We always have fun when we ride our bikes together."
Of course, the two weren't alone.
Saturday's race, which began and ended in the Meadows parking lot next to the Tennis Center at Steamboat Springs, drew more than 200 cyclists.
"It's just a beautiful ride. It's long and grueling," said Jim Linville. "My favorite is the last part of the climb on Gore Pass and then going down Gore Pass, then from there on through Yampa."
The course, which includes 6,684 feet in elevation gain, goes up Rabbit Ears Pass on U.S. Highway 40, over Gore Pass on Colorado Highway 134 and finishes on Yellow Jacket Pass on Routt County Road 14.
Although the ride includes a lot of climbing, the event is organized so both hardcore cyclists and casual riders can take part.
"There's great passes, and it's right close to home," said John Pougiales, who uses the Tour de Steamboat as a break from his competitive cycling. "It's great. It's an accomplishment for sure, but I race throughout the season so this is kind of casual."
The tour serves as somewhat of an end-of-the-summer event. Other bicycle tours such as Ride the Rockies and the Bicycle Tour of Colorado already passed through Steamboat.
While those tours draw a large number of participants and involve several days of riding, the Tour de Steamboat cyclists enjoy the smaller approach.
"Part of it's the passes, and part of it is it's smaller than the others," Linville said. "The others are getting pretty big. This is still kind of small and still kind of local. I mean, people come in from the outside, but it's nice to have something that's not too big."
Tour Director Katie Lindquist said between 20 and 25 out-of-state participants rode Saturday. There also was a good showing from Front Range riders.
Still, she said she tries to keep the Tour de Steamboat local and small to give it something different than the other tours across Colorado.
"You're not out there with so many people and you kind of get to know everyone," Lindquist said. "You get to know them at the barbecue and know them at the start. It is primarily a local event, but we get a lot of out-of-towners."
In its third year, the non-competitive Tour de Steamboat was sponsored by Kent Eriksen Cycles.
- To reach Luke Graham, call 871-4229
or e-mail lgraham@steamboatpilot.com