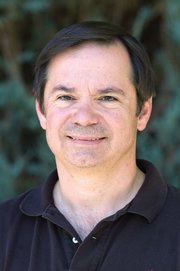 Steamboat Springs — Randy Rudasics
Age: 50
Occupation: Coordinator of the Small Business Resource Center, manager of Bogue Hall at Colorado Mountain College
Place of birth: South Bend, Ind.
Married to Kathie. Stepdaughter Amber living in L.A.
Q. When did you move to Routt County and what brought you here?
A. During my years at CSU in the late '70s, I began backpacking and skiing in the area. I had a condo in the '80s in Steamboat and bought a second home in 1999. Moved here after we sold our Employment Services business in South Bend, Ind., during 2005.
Q. What's the biggest risk you've taken recently?
A. A return flight in a single-engine plane from Denver to Steamboat during thunderstorms this past May.
Q. Describe your morning routine.
A. The usual stuff, but I like 15 minutes of quiet time before I get in the car.
Q. Has a book ever changed your life? What was it and why?
A. During graduate school, I read Dale Carnegie's "How to Win Friends and Influence People." It was interpersonal genius and helped me come out of my shell.
Q. What's the best piece of advice you've ever been given?
A. My dad always preached that the only way to easy money is years of hard work and savings so that eventually your savings will do the work for you.
Q. What three things would you want people to know about you?
A. I am the only Democrat in a very conservative family. I have had the same best friends since I was in grade school. I have an excellent sense of humor that I only let loose after the work day is over.
Q. What did you want to be when you grew up?
A. An architect, but college calculus buried that dream.
Q. If you could invite any four people to dinner, who would they be and what would you talk about?
A. My grandparents - to meet them and learn more about our family history.
Q. Do you collect anything?
A. DVDs (it's a problem), coffee mugs and baseball caps.
Q. In the Meatloaf song, "I'll do anything for love, but I won't do that," what is that?
A.My wife would say "home repairs."
Q. What was your first job?
A. Selling programs at Notre Dame football games.
Q. Who is your favorite superhero? Why?
A. Al Gore, a great visionary and advocate for the most pressing issue of our time.
Q. Do you have a tattoo? If so, what of and why did you chose it?
A. Never.