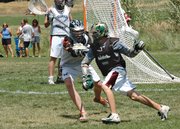 Steamboat Springs — The budding success of lacrosse in Routt County apparently isn't limited to the youth and high school programs.
Just a year after struggling in the Steamboat Lacrosse Tournament, the Steamboat men's lacrosse team showed just how much it has improved.
Steamboat - with just one win (by forfeit) last year at its home tournament - punched its ticket to today's semifinal with a 10-3 win against Vail and a 7-6 win against the School of Mines on Saturday.
"We've got more wins this year already than we had last year," Bonesaws player Mike Cosby said.
Against Vail, Steamboat played as complete a game as it has in recent memory.
"We came together as a team," Cosby said. "We played clean and we played fast. That's probably as good as we've ever played."
The momentum from the first game didn't exactly carry over to the Bonesaws' second match.
The School of Mines quickly jumped out to a 3-2 lead at halftime and appeared to have the momentum. But behind Dave Shively - who finished with four of Steamboat's seven goals - and Jesse Wichelhaus, Steamboat recaptured the lead early in the second half.
The teams traded goals before Jim Dougherty and Kevin Olsen scored back-to-back goals to give Steamboat the lead for good.
Shively added a late insurance goal and Steamboat withstood several man-down penalties in the final minutes to advance to today's semifinal.
"Obviously, we would have liked to dominate (Mines) more, but a win is a win," Cosby said. "We're in the right column, and it's going to give us some confidence going into (today's) championship rounds."
The semifinal begins at 11 a.m. today at Whistler Field. If Steamboat wins, the Bonesaws will play in the championship at 2 p.m. A loss puts the Bonesaws in the 1 p.m. consolation game.
- To reach Luke Graham, call 871-4229
or e-mail lgraham@steamboatpilot.com