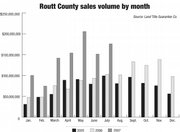 Steamboat Springs — The Routt County real estate market has already passed the $1 billion plateau, almost four months faster than it did in the record-setting year of 2006.
Bruce Carta of Land Title Guarantee Company confirmed Thursday that July real estate closings totaled $176 million, the highest monthly total thus far in 2007. That was sufficient to boost the year-to-date total to $1.004 billion.
Through July 2006, dollar volume had reached $525 million on the way to $1.121 billion by year's end.
September, October and November were the three biggest months for real estate closings last year. That could signal that the remaining five months of 2007 might push Routt County's year-end total within range of $2 billion.
However, Realtor Doug Labor reports that the aggregate value of about 1,103 listings currently on the market is $991 million. Pending sales total $292 million, Labor said. He is a principal in Buyers Resource Real Estate and compiles statistical data for the Steamboat Springs Multiple Listing Service.
It's important to note that while Carta tracks all real estate transactions in the county, Labor tracks only those transactions which involved a Realtor.
Labor said year-to-date MLS transactions total $495 million. So, slightly more than half of the $1 billion dollar volume through July came from outside the MLS. If the trend continued, $2 billion might be realistic after all.
Ken Gold of ReMax Steamboat said it's important to recognize that some very large transactions, $24.6 million for the undeveloped Mary and Steve Brown Property, $57 million for the Sheraton Steamboat Hotel and golf course and $53.9 million for Ski Time Square, for example, have boosted dollar volume in the first seven months of the year. Those are one-time events he said.
Gold has been active in the local market for 30 years and readily acknowledges it's difficult to put current activity in perspective.
"I have no frame of reference," Gold said. "It has been a frenzy."
Coleman Cook, a broker owner at Colorado Group Realty, said the numbers are so consistently startling he is growing accustomed to being surprised.
"We've been kind of hidden in Northwest Colorado," he said. "The amount of money that's pouring in now is almost not surprising."
Cook and Gold agree new development projects either under construction or in the pipeline almost necessarily lead one to the conclusion that Steamboat's real estate market will be targeting a significant number of buyers who were not previously familiar with Steamboat.
Gold said he conservatively estimates that between 1,000 and 1,500 new condominiums are already on their way at the base of the ski area and all of them will be expensive.
"You can expect that prices will be north of $1,000 per square foot," Gold said. "The buyers will be people who have never been to Steamboat before."
To illustrate his point, Gold recited his experience as one of the developers of the luxury Elkhorn condominium project on the south side of the Headwall trail at the base of the ski area. He would still match that project up against anything at the resort in terms of luxury and finishes. It has private elevators and commercial grade kitchen appliances for example. Yet, two years ago, it was a tough sell at $650 a square foot.
If the new buyers are willing to pay more than $1,000 per square foot for ski area condos, presumably they weren't in the market when Elkhorn was being marketed, Gold concludes.
The new developers in town are direct marketing (successfully thus far) to an entirely new demographic that can afford higher prices, he added.
Cook expects the ski area's additional direct ski season jet flights from New York will help to bring those new buyers to Steamboat.
But the current state of the real estate inventory makes him wonder if it will be a few years before the market can meet the expectations of buyers.
"I have a client coming in from New York tomorrow," he said. "And frankly, I'm kind of scrambling finding things to show him."
The buyer is looking for a three- to four-bedroom condominium at the ski base in the range of $1 million to $1.2 million. There are properties to show the client from New York, but Cook suspects the units that will meet his expectations are priced at $2 million and above. Those in his price range may not impress him.
The age of the product at certain price points may be a detriment.
Even projects built in 1997 may not measure up to the new buyers' standards.
"Those 10-year-old finishes really show," Cook said.
All three Realtors agree the relative shortage of inventory on the market right now will contribute to shifts in the marketplace through the end of the year and in some cases, make things tougher on real estate professionals.
Labor said the second quarter of the year established new records both in terms of dollar volume and the number of transactions.
A couple of years ago, Labor said, he might have been able to point out 10 or 15 ski area condos to interested buyers. Today they would probably have two to three units to look at in their price range. The scarcity of properties seems to be shifting perceptions of what is desirable in terms of distance from the ski area base, he added.
"We'll probably see a new threshold in price," he said.
Gold said as Realtors compete with each other for new listings, market conditions are making it tougher.
"The concern I have in terms of the real estate market is that listings are drying up," he said. A contributing factor is that existing owners who live and work in Steamboat can no longer aspire to sell a modest home and trade up.
"People aren't upgrading because there's nothing to ugrade to," Gold said.
As a result, the churn that provides Realtors with new listings isn't there.
Despite some of the challenges, Cook said Realtors in Steamboat are constantly busy showing properties and he thinks it will stay that way, in part because history teaches that the arrival of Intrawest as the ski area owner in a mountain town creates waves in the real estate market.
"There are a lot of Intrawest followers who have made a lot of money," Cook said. "We've only scratched the surface in terms of the ripple that creates."