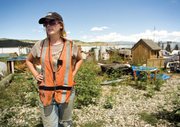 Steamboat Springs — Along the dusty, winding road that leads to the Twin Landfill outside of Milner, Jolie Lemoine rummages through almost every vehicle that enters the dump.
Emerging from a small mobile home-turned-office, the 26-year-old environmentalist flags down a Ford Explorer to see what loot she may divert from the landfill.
"This is Cindy, she's here to buy," Lemoine said as she returned to her office, which sports a small, hand-written sign - "Home ReSource" - over the front door.
"What we are trying to do - but we don't have enough staff - is to stop every non-commercial vehicle that comes through here," she said. "Some people really just want to dump it, and they won't stop to let us look through their stuff. Other times they are really excited about it. Sometimes people I stop will come back and buy something."
Home ReSource, a nonprofit salvage operation that offers a place for contractors and homeowners to donate building materials for a tax deduction, is more of a bazaar than a junkyard.
There are no set prices. Lemoine said she has honed her bargaining skills, but most items are offered for a fraction of what they would sell for in antique shops and other places of business.
A hot tub, toilets and hundreds of windowpanes and doors are just some of the thousands of salvaged home materials for sale in the patch of land adjacent to the landfill.
"We are trying to work with contractors and construction companies to get them to not only do deconstructions rather than demolitions, but try to bring some of that stuff out here, or to donate extra building materials that they have," Lemoine said.
She said her favorite item is an antique milk container from the historic Pleasant Valley Dairy.
"I totally just stopped the guy, and I asked him if I could look through what he was getting rid of," she said. "He had a lot of cool stuff."
Lemoine noted that she tries to avoid landfill diving for materials as much as possible, but every now and then an item too good to throw away must be plucked from the trash.
"If we see things go by and the people won't stop, then we'll go ahead and go in," said Lemoine, who added that she recently found a perfectly good wakeboard. "One time we got a canoe out and sold it for $40."
Dave Epstein started Home ReSource five years ago in Oak Creek before moving the operation to the landfill, which is owned by Les Liman of Twin Enviro Services.
"Originally, what brought me up here was that I was in farming and ranching, and so I had properties with barns on them," Epstein said Thursday night at a "Talking Green" lecture hosted by the Community Alliance of the Yampa Valley and Fox Construction.
"I'd be driving around town, and I'd always see Dumpsters full of really nice materials," he said. "I'd go around and gather up the materials and put them in my barn."
Epstein, the technical sales and marketing manager for Twin Enviro Services, said Home ReSource's mission is "to divert reusable materials from the landfill and lessen the need for new products to be created, thereby saving our natural resources."
One of the larger projects the organization has undertaken was the salvaging of the Nite's Rest motel, which was torn down in 2006 to make way for the Alpenglow development at Lincoln Avenue and Sixth Street.
"Another reason deconstruction helps is that it supplies the community with affordable options when purchasing construction materials, lessoning the need for new materials," he said.
With the demolition of Soda Creek Elementary School in July along with the numerous major construction projects ongoing in the area, Epstein said this summer has been a record season for the amount of debris taken to the landfill.
"I'm going around working with contractors, putting roll-off (trash bins) on site," he said. "Just like you put your glass, your cardboard and your newspaper, and you sort at your house, I'm encouraging contractors to do that with their roll-offs."
Epstein said many of the roll-off bins have returned filled with reusable items such as doors and windows.
"The contractor is not paying for the disposal of that material," he said. "In fact, he gets a tax break for it."
The doors and windows are stacked at the landfill site in a varying array of colors - purple, blue, red and black.
Lemoine said unloading the materials is just the first step.
"My job is to also help people get creative and find things to do with the stuff," she said. "We not only try to keep things from the landfill, but try to get people to visualize on a different level how they can use these things."
For more information about Home ReSource, call the Community Alliance of the Yampa Valley at 879-6252.