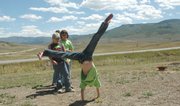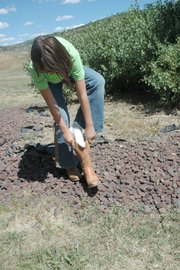 Steamboat Springs — Kicking off her tennis shoes and slipping on her cowboy boots, Stagecoach resident Joplyn Brittain could barely contain her excitement as she ran in the direction of the horse arena Friday.
Brittain, 9, was one of 21 South Routt children participating in the South Routt Bible Church's annual Horsemanship Bible Camp. The unique camp combines typical Bible camp activities with equine events to provide children opportunities they otherwise might not have.
"It's pure fun," Brittain said.
South Routt Bible Church Pastor Tom Harves said the camp reaches out to the entire South Routt community.
"The original theory behind the Horsemanship Bible Camp was to reach out to the ranching community we live in, but the community has changed, and so have we," he said.
The four-day camp, which began Thursday, includes chapel time, games, crafts, Bible study and horsemanship. Today, the children will compete in a rodeo, which will be followed by a closing reception and awards ceremony.
Stagecoach resident Don Alperti, who helps organize the camp, said the format provides children with exposure to new experiences.
"When those kids know they're walking out to the arena and they know they're going to ride, their eyes light up," he said. "Our hope is that they are getting a better understanding of the Bible and growing spiritually, and that they learn to appreciate horses."
Simla residents Ronnie and Becky Moyer and their three daughters travel the country bringing horsemanship Bible camps to people. They've noticed something different during their stop in South Routt County.
"There's a closeness here in this community that you don't see in other places anymore," Ronnie Moyer said. "It's like the way it used to be down here."
He said teaching Bible camp outdoors helps children harness confidence.
"For me, the arena is the classroom. It's where I've grown up teaching," he said. "Out here, with the horses, you learn so much - respect, responsibility, life values - and you develop a personal relationship with the Lord."
Becky Moyer agreed.
"When the children are on the horses they think they've conquered the world, like they're flying an airplane," she said. "It's a miracle how far they come in four days."
Although Routt County is known for its ranching lifestyle, not all of the Bible camp's participants live on ranches.
Thursday "we had a little girl almost in tears standing looking at this horse, and the next thing you know she's riding it," he said. "That's huge. If they can overcome that, think what they can do on the baseball field, in school, in the community or at home. It's a whole new level of confidence."
Yampa resident Dakota Bruner, 8, summed up the camp perfectly.
"It's about learning about God with horses," she said. "Riding the horses and going to Bible study - that's what I like the best."