Photo Gallery
Power Play Renewables Photos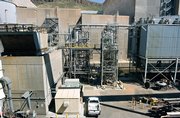 Photo Gallery
Power Play Renewables Graphics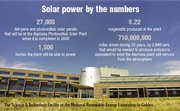 The truck seems out of place rolling past Main Street in Peetz, a dusty little town on the plains of northeastern Colorado.
Despite the broad fields and ranchlands surrounding the town, the truck isn't carrying hay bales or cattle. It isn't carrying horses. The truck is carrying a sleek, curved, 30-foot-long blade for a wind turbine - and on a sunny May morning, more than 100 turbines dot the surrounding horizons like tall, white needles, the blades spinning slowly and inexorably in the breeze.
It's a perfect day to break ground on a wind farm.
Logan County Commissioner Gene Meisner said the fields surrounding Peetz have long been "wheat country." But extended drought is changing that.
Now it's wind country.
"This is quite a shot in the arm to Logan County, tax-wise," Meisner said. "This is unbelievable, what's going on."
What's going on is the Peetz Table Wind Energy Center, a $700 million facility that will become the second-largest wind farm in the nation and could one day produce 400 megawatts of electricity with 267 wind turbines. Florida-based FPL Energy will install and operate the turbines, which will stretch across nearly 20 miles of land leased or bought from ranchers and Logan County property owners.
FPL Energy spokeswoman Mary Wells said the company pays landowners annual fees to lease land for the turbines. She declined to give specifics about the fees, but for farmers struggling through years of dry crops, well, it's a windfall.
"It is in the several thousands of dollars, per year, per turbine," Wells said.
Large ranches have room for numerous turbines, which Wells said landowners have no responsibility to maintain, operate or deal with.
"We are completely responsible," Wells said. "(A turbine) might as well be a tree standing in the middle of their property."
FPL also is paying Logan County for building permits, use taxes, road access and construction, among other fees.
Logan County Commissioner Jack McLavey said FPL's impact on the county totals about $4 million in use taxes and building permits, plus $2 million for road access and "rights of way."
"This is kind of like the oil boom was in the '50s, in Logan County," Meisner said. "But much bigger. And this isn't going to stop."
All the time
More than 100 people showed up for the Wind Energy Center's May 16 groundbreaking, which featured miniature wind-turbine models and live music from the Peetz Junior/Senior High School Band.
"I haven't seen this many people since the last (high school) football game," Peetz Town Mayor Greg Nienhuser quipped.
Jody Buss, 40, said Peetz has a population of about 350, "depending on what time of day it is." Buss has lived in and around Peetz all his life. He works at the Cenex gas station on Main Street.
He said the wind boom began in 1998, when about 30 turbines popped up west of town. In 2006, 64 turbines went up east of town. Now, the new Wind Energy Center will nearly triple the turbines reaching into the sky.
"The only concern is that landowners who don't have wind (turbines) will get driven out by those who do, because of the money," Buss said. "But as far as scenery and all that, nobody really minds."
Gordon Vallier lives on unincorporated farmland outside of Peetz, near the Nebraska border. Much of his property will be part of the Wind Energy Center - an opportunity the longtime farmer said he jumped at.
"We've been in a drought situation out here for about seven years. It's been pretty tough," Vallier said, squinting under a worn hat and wearing a Farmers Crop Insurance Alliance jacket. "The wind farm was very welcome news. We had been looking for an alternative income - it didn't take very long to convince us to sign up."
Vallier said he has several turbines on the 1,760 acres he owns with partners. They have plans for several more, but Vallier declined to talk about how much income has blown in his door.
"Let's just say it has sure gone a long ways to help," he said.
Especially in a small town like Peetz.
"We got the bar, the telephone company, the post office, and the co-op, and that's about it," Buss said. "There's a dog kennel on that side of town."
Standing outside the Cenex station, Buss grinned when asked whether Peetz is a good location for a wind farm.
"Oh, yeah," Buss said. "The wind blows all the time."
A new crop
Michael O'Sullivan, a senior vice president for FPL, said the company has invested more than $6 billion in the wind business, including its largest project - a facility producing more than 700 megawatts of electricity in Texas.
Like coal, natural gas, oil shale and solar power, wind power is also expanding business and drawing new companies to Colorado.
Groundbreaking ceremonies are now so common, Gov. Bill Ritter might as well keep a gold-plated shovel in the backseat of his car.
In June, Vestas Blades of Denmark broke ground on its first North American manufacturing plant, a $62 million facility in Windsor.
When the plant is completed in 2008, Vestas will produce about 1,200 wind turbine blades a year and provide about 450 manufacturing jobs.
"Not only is wind free, but it's clean," Ritter said at the ceremony in Peetz, adding that Colorado is the 11th-windiest state in the nation. "We are making a statement to the rest of the country that we will be renewable energy leaders around the world and certainly here in the United States."
The wind boom on farmlands in eastern Colorado is akin to the natural gas and oil boom on ranches across the Western Slope.
"No longer do we just raise corn and wheat, sunflowers and cattle. Now, we're farming energy," said state Rep. Jerry Sonnenberg, a Republican rancher who represents a Northeast Colorado district that includes Logan County. Sonnenberg is a member of the House Agriculture, Livestock and Natural Resources Committee at the Capitol in Denver.
"Whatever we do in renewable energy is a step in the right direction to reduce our dependence on foreign oil," he said.
The extent of wind development is surprising to some.
"I had no idea that it was going to be a project of the magnitude it has turned into," Commissioner McLavey said about the Peetz turbines. "It's just mind-boggling."
Going forward
O'Sullivan said FPL donated $250,000 to the Peetz Community Center.
McLavey said in two years, once the property taxes kick in, wind turbines will add $2.3 million annually to Logan County's $26 million budget. The money will eliminate the county's half-cent sales tax that is paying off a $16 million Justice Center completed in 2003.
"There's all kinds of things that could happen," McLavey said about the new funds.
As the groundbreaking ceremony ended, many Peetz and Logan County residents took the short drive back into town for a lunch and auction at the Community Center. Over plates of refried beans, hot dogs and potato chips, family and friends bid on items - like more wind turbine models - auctioneered by Meisner.
McLavey bought one of the models for $280. Meisner bought one for $250.
There was no shortage of money being tossed around at the auction, which raised $3,550 for local Meals on Wheels programs.
Farmers in overalls casually pulled bills out of their pockets, bidding on items such as shovels from the co-op. One man bought the last two shovels for $100 each, without a second thought.
Suddenly, there is money in the town of Peetz.
"The checks are overwhelming. We've had to back off paving roads because we haven't had the money," Meisner said. "Now we're going forward. It's looking good : we've got smiles on the farmers' faces."
Larry Nelson is a farmer who lives west of Peetz. He said although some of his neighbors fear the turbines will break down or not produce power permanently, FPL "must have a good reason for spending all that money."
"They've got to be pretty confident," Nelson said. "The worst we'll get out of it is some nice new roads running out there."