The Tao Jones band returns to Mahogany Ridge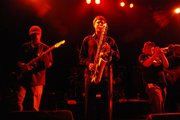 Past Event
Saturday, August 11, 2007, 10 p.m.
Mahogany Ridge Brewery & Grill, 435 Lincoln Ave., Steamboat Springs
Not available / $5
Steamboat Springs — Taoism is all about finding constancy in a life of continuous, swirling change.
For the past two years, The Tao Jones band has done just that. While playing shows across the West and in Steamboat Springs since 2005, the group has dropped members, added members, explored different styles, found new rhythms and tried new songs.
But one thing has remained the same - a jaw-dropping, body-rocking, good time of a show.
The five-piece band includes Jake Ball on trumpet, Danny Meyer on saxophone, Christian Mockett on guitar, Sean Mahaffey on bass, and Zack Scott on percussion. The Tao Jones uses jazzy horn riffs, strong percussion and innovative guitar work to create a sound that, in their own words, takes show-goers "on a funk-inflected odyssey across the musical landscape."
"The horns bring a little bit of nostalgia combined with new electronic sounds. You can use any words you want to describe our music," Mahaffey said in January before the band played a Steamboat show. "Our key focus is we like people to dance, move and shake it."
The Tao Jones returns to the 'Boat with a Saturday night show at Mahogany Ridge Brewery & Grill.
This show is part of a summertime swing through Colorado and Wyoming, which takes the band to the Mishawaka Funk Festival in Bellvue on Friday night and then to locales including Telluride, Durango and Boulder after the Steamboat show.
"We throw a hell of a party every time because we're not afraid to get down and dirty," Ball said. "We bring the old with the new : there is an old jazz element mixed in with a modern day kind of sound."
The show starts at about 10 p.m. The cost is $5.