Ski Corp. selling chairlifts to benefit environmental projects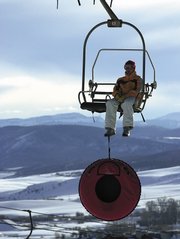 Steamboat Springs — If your children grew up on the Headwall chairlift or you met your wife riding up Christie II, you'll soon have the opportunity to own a piece of that Steamboat history.
On Monday, Steamboat Ski & Resort Corp. will begin selling 175 chairs from the Christie II, Headwall and Preview chairlifts. Interested residents are asked for a minimum donation of $250 per chair. All proceeds from the sale - around $44,000 in total- will go to the Ski Corp.'s Employee Environmental Fund at the Yampa Valley Community Foundation. The fund provides money to local, nonprofit organizations dedicated to working on environmental projects.
Heidi Thomsen, a Ski Corp. spokesperson, said the sale is a "win-win" for the community.
"It's a great opportunity to own a piece of the (Steamboat) Ski Area history," she said. "At the same time, all that money goes right back in to the community to fund a variety of environmental projects."
During its 2007 granting cycle, Ski Corp. awarded $40,000 to Yampatika, Yampa Valley Stream Improvement, Yampa River Botanic Park and Rocky Mountain Youth Corps and other organizations to support their work.
Thomsen said the chairs will be sold on a first-come basis. Beginning at 9 a.m. Monday, residents can call the Steamboat Ski Area Switchboard at 879-6111 to purchase a chair. People will not be allowed to reserve specific chairs off the lines, she said.
Chairs are available for pickup from 1 to 6:30 p.m. Aug. 17 at the Meadows Parking lot.
"We did the same thing with the Burgess Creek chairlift in 2004 and those sold out quickly," she said.
Chris Diamond, president and chief operating officer for Ski Corp., said selling the chairs is a benefit to the community.
"These lifts served the public admirably for decades and each one has a lot of nostalgic value built up throughout the community," he said. "After the success of the Burgess Creek sale and the continued demand for chairs, we didn't hesitate in committing to this project again knowing the dollars raised would leave a lasting environmental legacy."
Betsey Jay, executive director of the Yampa Valley Community Foundation, said the foundation is pleased to house Ski Corp.'s fund.
"I think it's wonderful that these chairs are being sold for a good cause," she said. "We're really glad to see that Ski Corp. and its employees care enough about the environment to fund projects that preserve and support it."
Removing the Christie II, Preview and Headwall chairlifts created room for the new Christie Peak Express, a high-speed, six-passenger chairlift, installed as part of more than $16 million in on-mountain improvements this winter.
-To reach Alexis DeLaCruz, call 871-4234
or e-mail adelacruz@steamboatpilot.com