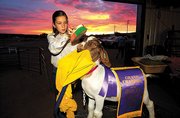 Hayden — The 93rd annual Routt County Fair begins today in Hayden and continues through Aug. 19. For the first time, the fair will feature a freestyle motocross stunt show as its highlight event.
"We've been trying to figure out the past few years how to get people to the fair who don't normally come," said Jill Altman, Fair Board coordinator.
The show begins at 7:30 p.m. Aug. 17. Tickets are on sale at the fairgrounds in Hayden and at Planet Powersports locations in Steamboat Springs and Craig. Tickets are $15 for spectators 10 and older and $10 for children ages 3 to 9. Ticket prices go up $2 on the day of the show. Altman encourages people to purchase their tickets early because seating in the fairgrounds grandstand is limited.
The fair kicks off tonight with an English open horse show at 5 p.m. There are horse shows Saturday and Sunday evening as well. Jay Whaley, who runs the 4-H program, said their shows kick off Monday with a dog show at 9 a.m.
Many animals are being shown by 4-Hers this year. Whaley said there are 116 market hogs, 47 market steers, 14 breeding beef females, 52 market lambs, 28 breeding sheep, two llamas, eight goats, 34 chickens, ducks and turkeys, and 33 rabbits. Thirty-seven children are showing horses.
Whaley said the fair is the culmination of the 4-H livestock project and that 4-H participants have been raising and feeding their animals all year.
"It's a huge commitment," Whaley said.
Whaley said there also are 4-H events open to anyone, such as the "Dress Your Animal" contest Aug. 17. The highlight of 4-H events, however, is the Aug. 17 Bobby Robinson Memorial BBQ put on by 4-H kids and volunteers. Whaley said he expects between 800 and 900 people at the barbecue.
Immediately following that event is the Junior Livestock Sale, where the children and teens who raised animals and showed them at the fair will have a chance to auction them off.
"Kids sell way over market value," Whaley said.
For example, the average lamb last year sold for $1,850. The highest-selling lamb sold for $2,900. Whaley said market price for a lamb is more like $100. According to a 4-H-conducted poll, 80 percent of the money raised at the Junior Livestock Sale goes straight into a college fund, with most of the rest going toward the purchase of animals to show at the next year's fair.
Altman said she hopes to see a lot of participation in this year's home arts contest, which features everything from arts and crafts to beer and wine. Altman said people can enter just about anything as long as they made or developed it themselves.
"If we don't have a category for it, we'll make one," she said.
Altman said the only entry ever turned away was a noxious weed someone tried to pass off as a flower. In particular, Altman said she expects more participation in the beer and wine categories.
"I know there's more people in this valley that make beer than showed up last year,"
Altman said.
Check-in for the home arts contest is 1 to 8 p.m. Wednesday, with judging beginning at 9 a.m. Thursday.
Hayden police Chief Ray Birch said his department will handle any calls for service throughout the fair. There will be extra patrols on duty for the motocross stunt show, which is expected to draw as many as 1,000 people, and a barn dance Aug. 18.
- To reach Brandon Gee, call 871-4210
or e-mail bgee@steamboatpilot.com