Feminine touch
'Eleemosynary' examines relationship of three generations of women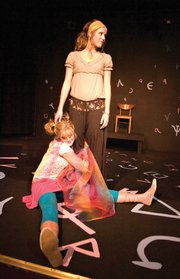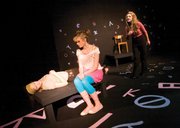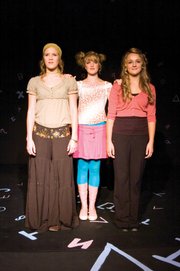 Past Event
Thursday, August 9, 2007, 8 p.m.
Steamboat Mountain Theater, Steamboat Springs
Not available
Steamboat Springs — From Toni Morrison's "Beloved" to Amy Tan's "The Joy Luck Club," mother-daughter relationships have long been a topic of artistic expression.
First-time director Lauren Tait tackles the complex subject in the play "Eleemosynary," which includes performances today and Saturday at Steamboat Mountain Theater.
"It's basically the story of a grandmother, mother and a daughter - and all three of these women are insanely bright," said Tait, 22, who is the new director of the Great American Laughing Stock Company, which is producing the play.
"There are conflicts between the grandmother, Dorothea, who's an eccentric woman, and her daughter, Artie, who's brilliant but wants to have more of a traditional role as a woman," she said. "Artie's daughter, Echo, who is also a genius, is drawn toward her grandmother. The story centers around these three women and how they are coming together."
Tait said she has wanted to produce "Eleemosynary" since she saw it performed last fall while she was a student the University of Southern Indiana.
"When I saw it, I (knew I) could do more with it," said Tait, who lives with her mother and grandmother - a family dynamic not unlike the women in the play. "When the opportunity to direct and take over this company came up, I read other plays, but this was always in the back of my mind."
Steamboat Springs High School students Emily Stout and sisters Gracie and Emily Stockdale round out the cast of the one-act play, written by Pulitzer Prize-nominated playwright Lee Blessing.
"What's most enjoyable about being in this production is that all three of us are really close," said Emily Stockdale, 18, who plays Echo. "Having to do this play about women and their relationships is really cool, and we can really relate to it. Even though we are not the age of the characters, we can relate to each other and relate to the plot really well."
Tait said the play's appeal is universal because of an equal blend of heartwarming drama and humor, but Stout, 16, said the play will no doubt inspire those in the audience to review their own mother-daughter relationships.
"This play is totally empowering to women," said Stout, who plays Artie. "It made me think of my relationship with my mom and my relationship with my grandma and how that all plays with conflicts and resolutions."
Emily Stockdale added that, like her character, she is also coming to grips with the give-and-take relationships among the women in her family.
"It's kind of about what we give to each other," she said. "We all get something from each other and we all give something to each other. That's what makes the relationships so special."
Gracie Stockdale, 15, who plays the eccentric grandmother Dorothea, said the strong female characters make for powerful drama, but the roles push the three actresses' talents.
"Because it's so challenging to play such diverse characters from what we usually play, it gives us more strength as actresses, so it's a big learning experience," she said.