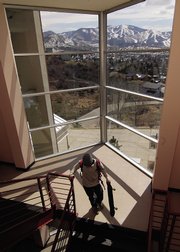 Steamboat Springs — Officials at Colorado Mountain College's Alpine Campus are gearing up for another busy fall.
The number of full-time, degree-seeking students at the two-year community college is up by 3.8 percent from Aug. 1, 2006, said Brian Hoza, director of student services at CMC.
"We are not sure if all those who say they plan to come will matriculate," Hoza said Monday, less than a month before the fall semester begins. "There are 237 (students) registered in residence halls for the fall. It's up to capacity."
This year, dorm rooms at the campus were filled almost a month earlier than last year. Hoza said the increased enrollment can be linked to the college's commitment to workforce development and identifying the needs of the community.
He listed emergency medical services and English language learner classes as examples.
"There is more interest and awareness where we can fill some of those (educational) niches so we can help employers train employees in a variety of ways as well," he said.
Debbie Crawford, CMC's director of public information, said the school's affordability also has spurred enrollment.
"Our tuition has not increased this year. In fact, it's the same as it has been for the past three years," said Crawford, who noted tuition for the fall semester is $43 per credit hour for in-district students, $72 per credit hour for in-state students, and $231 per credit hour for out-of-state students. "That's pretty incredible," she said.
When looking at colleges within Colorado, students can expect tuition jumps at the larger universities.
In June, the University of Colorado regents increased tuition for most students at the Boulder campus by 14.6 percent for the fall semester. Colorado State University administrators announced last month a tuition increase of $574 per year for full-time students.
Hoza said there has been an increased demand at all seven CMC campuses because the credits earned at the schools typically transfer to four-year colleges in the state.
"We are an affordable alternative, but we are also a valuable resource in preparing students for four-year schools," he said. "Our students have historically done better at the four-year schools that they have transferred to than those who originally started there."
Hoza said the increased enrollment has created a demand for adjunct instructors for business and art courses.
"Potential instructors can contact the instructional office if they have interest. There are many areas that are still in need," Hoza said.
For more information on housing opportunities for students call the Colorado Mountain College at 870-4444.