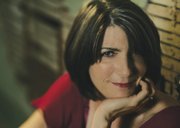 Past Event
Friday, August 10, 2007, 8 p.m.
Strings Music Festival, 900 Strings Road, (Corner of Mt. Werner Rd & Pine Grove Rd), Steamboat Springs
Not available
Steamboat Springs — If you want to see Kathy Mattea perform tonight, get to the Strings in the Mountains box office this morning.
Reserved seats for Mattea, a folk and country musician who has won two Grammys and twice been named the Country Music Association's Female Vocalist of the Year, have been sold out for weeks. But beginning this morning at 9 a.m., weather permitting, Strings will sell 100 lawn seats for $20 each. You must be at the box office in person to buy a ticket - and you might want to get there early.
The tickets could go fast.
Mattea is a West Virginia native who lives in Nashville and has been topping country charts for more than 20 years, both with her own band and collaborating with musicians ranging from banjoist Bela Fleck to guitarist Vince Gill. Her "Eighteen Wheels and a Dozen Roses" is a former Country Music Association Single of the Year. And the last time she performed at Strings - Mattea's first time in Steamboat - a double rainbow stretched across the sunset, inspiring Mattea and the crowd to stand outside for 15 minutes before starting the show.
"It was the most amazing day - everybody said it was the best sunset of the summer," Mattea said Tuesday. "Everybody just stayed outside until the sunset was done, and then walked inside for the music : we had such a great time, it was just a no-brainer to come back."
This time around, Mattea will be accompanied by guitarist Bill Cooley, whom she has performed with for about 18 years. The pair will perform three or four news songs from Mattea's next album, which is simply titled "Coal" and won't hit stores until January 2008.
The album is a tribute to the coal-mining heritage and lore of Appalachia.
Mattea said fans will hear some of her classics and favorites, too.
"Absolutely. That's half the fun of it, mixing old stuff with new stuff, rearranging old stuff and surprising people," she said.
Mattea added that she is excited to play in Steamboat with just Cooley.
"The audience was so wonderful" last time, she said. "This seems like a really nice way to go and just strip it down to the voice and the people and the strings."