Photo Gallery
Power Play Renewables Photos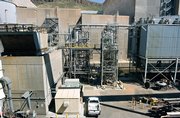 Photo Gallery
Power Play Renewables Graphics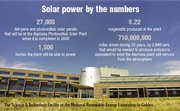 Solar power technician Marc Landry bounces around a laboratory like lightning in a bottle - or more specifically, like silicon atoms subjected to extreme heat in a test machine.
"Silicon is the second-most abundant mineral in the Earth's crust," Landry said, explaining his experiments in solar power while hopping on his feet and gesturing with both hands. "The problem is, it's chemically bonded to the most abundant mineral, which is oxygen."
Oxygen can be labeled a mineral, Landry explains in a rapid-fire staccato, because when combined with silicon it forms silicon dioxide, or quartz - "90 percent of any rock" in the Earth's crust.
Silicon also is a great conductor of energy. Heating quartz molecules to about 1,500 degrees Celsius, or 2,732 degrees Fahrenheit, strips away the oxygen and leaves only the silicon.
So Landry heats some up, purifies the silicon, adds some radio waves to shake off lingering electrons, sticks the silicon to a layer of glass, and presto! He's made an energy-conducting solar panel thinner than a CD, coated with a layer of silicon less than 4,000 atoms deep.
"The top layer is the only part that generates energy," Landry said, holding a conventional, square solar panel with a heavy backing. "The rest of the wafer is support."
Most of that support is unnecessary, said Landry, who is working to improve "thin-film" solar panels. Thin-film technology is revolutionizing the capability and flexibility of solar power. Imagine a bendable sheet of solar panels that feels like a heavy blanket, looks like roof shingles, can be wrapped around your waist and has two wires on the back to carry electricity.
It's not something coming down the road.
"It's here," Landry said of thin-film development. "For about the last year or two, there really have been companies and investors interested in this. They see the potential of making money."
Best in the world
Landry sees the potential of changing how people get their electricity.
A 20-year veteran of the photovoltaic industry and a man who has built machines for solar research labs around the world, Landry works at the National Renewable Energy Laboratory in Golden. The facility is the nation's primary renewable energy research laboratory. It includes buildings or work centers for alternative fuels, photovoltaic manufacturing and development, solar power studies and the nearby National Wind Technology Center. Operated by the U.S. Department of Energy, NREL has an annual budget of more than $200 million and recently received a $109 million funding boost for capital projects.
"This is the best lab in the world," Landry said.
The statement is easy to believe. Landry's lab is as big as a football field and contains no partition walls or cubicles - it is a vast, open space, with high ceilings like an airplane hangar and ridiculously complex machines strewn across the floor.
On a Friday morning in July, Landry is just hours removed from seeing Bob Dylan play late into the previous night at Red Rocks Amphitheatre. But fatigue is nonexistent as he talks about the unlimited power of the sun.
At any given moment, Landry said, the sun hits the Earth with 125,000 terawatts of power. One terawatt is 1 trillion watts.
"The entire human race uses 12 (terawatts)," Landry said. "Twelve! There's a lot of juice to tap. But the bottom line is dollars per watt."
The bottom line is not only cost, but also storage. The knock on two leading forms of renewable energy - solar and wind power - is they are only effective when the sun shines or the wind blows.
"I don't want to go to the hospital in a wind-driven ambulance," quipped longtime oil and gas lawyer Frank Cooley of Meeker.
But the perception of renewable power as unreliable is changing.
Storing the sun
Tom Plant, director of Gov. Bill Ritter's energy office, said Colorado is "on the cusp of a renewable renaissance." One of the reasons, he said, is the development of concentrated solar power.
Concentrated solar technology, also known as solar thermal, uses the sun's heat to create steam that spins turbines and runs a generator - a method of power production similar to burning coal.
"One of the nice things about concentrated solar is that you can store the heat," Plant said. "Only recently has (concentrated solar) been developed and deployed."
About 40 miles southeast of Las Vegas, a new plant called Nevada Solar One is producing 73 megawatts of power using parabolic, or U-shaped, mirrors that focus sunlight onto tubes that collect and transfer the heat. One of the largest solar plants in the world, and featured in a video on YouTube, Nevada Solar One covers more than 350 acres and includes about 19,000 of the tubes.
Dr. Chuck Kutscher visited Nevada Solar One in June.
"It's a significant advance in terms of cost effectiveness," said Kutscher, a principal engineer at NREL. "The whole game is to reduce solar costs and produce more energy."
Down a few halls from Landry at the NREL facility, Kutscher works to improve the efficiency of receiver tubes, which run down the center of parabolic solar panels.
Kutscher said concentrated solar facilities only work in certain regions.
"If (the weather) is hazy, diffused radiation hits the mirrors at wrong angles," Kutscher said, citing Florida as an example of a place with less-than-ideal conditions. "High, direct, normal radiation is best. We only really consider these types of plants in the southwest part of the country."
Kutscher said while high-voltage power lines are being studied for transmission across the country, Southern California, Arizona, Nevada, New Mexico and parts of Colorado have a particularly bright future for solar power development and use.
Several concentrated solar plants are producing a total of more than 350 megawatts of electricity in California's Mojave Desert.
"Some of our fastest-growing cities are in the Southwest," Kutscher said. "There's a real population base we can deliver to."
Including in Colorado.
Sunny San Luis
In April, politicians and local officials broke ground on the Alamosa Photovoltaic Solar Plant, an 8.2-megawatt facility that is scheduled for completion in 2008. SunEdison will own the plant and sell its power to Xcel Energy, which operates the coal-fired Hayden Station power plant in Routt County.
"This solar plant is another building block in Colorado's New Energy Economy," Gov. Bill Ritter said at the ceremony. "And constructing the plant in the San Luis Valley makes perfect sense because the valley is the sunniest place in the sixth-sunniest state in the nation."
U.S. Sen. Ken Salazar, a San Luis Valley native, echoed Ritter's sentiment.
"With wind farms across the plains, new bio-diesel and ethanol plants, the National Renewable Energy Lab, innovative businesses like SunEdison and Xcel Energy and this solar energy project, Colorado really is the renewable energy capital of the nation," Salazar said. "This solar plant project, near my home in the San Luis Valley, will help bring new investments and new jobs to Colorado."
About 50 construction jobs, that is, in addition to a small, permanent maintenance crew for the plant. Although the Alamosa facility is dubbed "one of the largest of its kind in the country," its statistics pale in comparison to Hayden Station, which employs nearly 100 people and produces 446 megawatts of electricity - enough to power nearly half a million homes.
"Coal will continue to be a portion of our energy portfolio," Plant acknowledged. "But we are a real focus for solar and photovoltaic power."
The state is demanding the focus increases.
This year, the state Legislature passed House Bill 1281, which requires that utilities such as Xcel obtain 20 percent of their electricity from renewable sources by 2020. The law raises the standards of Amendment 37, a measure passed by Colorado voters in 2004 that requires utilities to obtain 10 percent of their electricity from renewable sources by 2015.
"We will achieve that 10 percent by the end of this year," Plant said.
Spreading sunlight
The solar industry is picking up steam across the country.
At the NREL lab, Landry talks excitedly about companies such as the Phoenix-based First Solar, which manufactures thin-film solar panels. On July 9, First Solar announced sale agreements for 685 megawatts worth of its solar panels, including a multi-year agreement with SunEdison.
The money for such projects is coming from unexpected places. The estate of John Walton, late son of Wal-Mart founder Sam Walton, owns more than half of First Solar and pumped $250 million into the company in 1999.
In Golden, not far from NREL, PrimeStar Solar - formed just a year ago - is working with cadmium telluride, a coating for thin-film solar panels that could provide a cheaper alternative to silicon.
"Silicon technology is twice as efficient (as cadmium telluride), but it costs more to do," Landry said.
In June, the U.S. Department of Energy granted PrimeStar $3 million in funding for the next 18 months.
Also in June, Xcel and Tri-State Generation and Transmission Association, which operates the coal-fired Craig Station plant in Moffat County, announced plans to collaborate on a concentrated solar plant in New Mexico. The plant could be built by 2010 and produce up to 500 megawatts.
But at least for now, the costs of solar power still are prohibitive.
NREL officials estimate concentrated solar plants cost 13 to 16 cents per kilowatt hour, compared to 4 cents per kilowatt hour for coal and 8 to 10 cents per kilowatt hour for natural gas.
"If we push the technology, we'll drive the price down. And eventually, this will be the dominant technology," Landry said about solar power. "There's no reason in the world it can't be this."