2007 Steamboat Springs golf team schedule
Today at Battlement Mesa
Friday at Glenwood Springs
Monday and Tuesday at Grand Junction
Aug. 15 and 16 at Montrose
Aug. 22 at Cortez
Aug. 23 at Eagle Valley
Aug. 29 at Delta
Aug. 30 at Cedaridge
Sept. 4 at Basalt
Sept. 5 host at Haymaker
Sept. 6 at Craig
Sept. 10 at Fruita
Sept. 18 and 19 at Cortez (regionals)
Oct. 1 and 2 at Broomfield (state)
2007 Steamboat Springs golf team schedule
Today at Battlement Mesa
Friday at Glenwood Springs
Monday and Tuesday at Grand Junction
Aug. 15 and 16 at Montrose
Aug. 22 at Cortez
Aug. 23 at Eagle Valley
Aug. 29 at Delta
Aug. 30 at Cedaridge
Sept. 4 at Basalt
Sept. 5 host at Haymaker
Sept. 6 at Craig
Sept. 10 at Fruita
Sept. 18 and 19 at Cortez (regionals)
Oct. 1 and 2 at Broomfield (state)
Haymaker Junior Golf Championships
Tucker Campbell made the last event of his junior career count.
The former Steamboat Springs High School player carded a 1-under-par 71 to win the 14- to 18-year-old age bracket.
Campbell, who also played football for the Sailors, is off to Colorado Springs to pursue a golf management degree.
Cody Fritz finished second with a 77, and Cam Fritz finished third with a 79.
In the girls division, Lauren Quirch was the only participant. The Houston native shot an 85 to capture the title.
In the 11- to 13-year-old age group, Jack Lupori finished first with a 44, with Charles Goode (50) and Alex Pines (52) finishing second and third, respectively.
Brandon Martin finished first in the 9- and 10-year-old division, shooting a 44. Zach Rosa's 60 was good for second, while Willy Gunn shot 63 to place third.
In the youngest juniors division, ages 6 to 8, Fischer Matthews shot 34 over five holes, and Oscar Gilbert shot 42.
On the girls side, Hannah Krats beat Julia Wong in a putt-off to take first place in the girls 6- to 8-year-old division. Tia Krats finished third.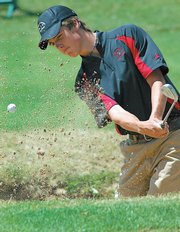 Steamboat Springs — The Steamboat Springs High School golf team has been the definition of success.
The team has qualified for the state tournament five years in a row and won multiple regional titles.
But with two stalwarts having recently graduated - Tucker Campbell and Paul Berry - some might expect a drop in production.
Don't count on it.
Coaches Steve Dodson and Scott Berry expect this year to be fairly similar to the previous five. The bottom line, they said, is this year's Sailors are a good team with depth at all spots.
"We lost a couple of horses, but that's the nature of scholastic sports," Dodson said. "We have a nice mix of experienced talent and young talent."
Maybe the best sign for the Sailors this year is they have three seniors and one junior with varsity experience.
Dodson said the team will lean heavily on seniors Michael Weston, Billy Taylor and Cam Fritz, as well as junior Cody Fritz.
All four saw varsity action last year, all four can shoot in the 70s, and Weston and Taylor qualified for state in 2006.
"It's unique," Dodson said. "We don't have a lead horse. Four or five guys on any given day can shoot low and be the low medalist for the team."
Along with the four upperclassmen, Dodson and Berry noted several other players, including Kaelen Gunderson, Ben VonThaden and Scott Ptach, who could play integral roles throughout the season.
"Our team has a lot of potential," Weston said. "To be successful we will need a few of the veteran players to step up and fill those leadership roles."
While Steamboat looks to make it back to the state tournament as a team, the Sailors will face some stiff competition in its region. Delta returns two top golfers, including Jim Knous, who finished second to Berry at the regional tournament last year. Montrose - with a large number of golfers and a new coach - also is expected to make a push.
Both coaches said they know little about the other teams in the region.
The Sailors, however, should find out relatively quick where they stand. Starting with today's tournament at Battlement Mesa, Steamboat will play six tournaments in the next two weeks, including four next week.
Dodson said although the team is looking up, it wouldn't have been possible without the help of local courses and head pros Jim Miller, Brian Thorne, Wayne Garrison and Hank Franks.
Because golf is a Tier 2 sport in the Steamboat Springs School District, it takes a lot of private donations to keep the program successful. Tier 2 sports are those that aren't fully funded by the district.
"Without the generous support that they give our players, we wouldn't have the type of program we have," Dodson said.
With a busy tournament schedule - including the Sept. 5 tournament at Haymaker - before the regional tournament in Cortez, Dodson said he's excited to see where this team can go.
"Obviously we've set the bar high," Dodson said. "Still we don't expect to go backwards just because we lost a couple of players. We expect to excel and see this program move forward."
- To reach Luke Graham, call 871-4229
or e-mail lgraham@steamboatpilot.com