Scott Stanford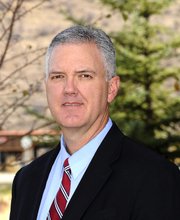 Scott Stanford is general manager of the Steamboat Pilot & Today. Call him at 970-871-4202 or email
sstanford@SteamboatToday.com
Steamboat Springs — It is your mistakes, not your successes, that teach you the most in this business.
Brent Boyer is your new editor. The guy needs a broader collection of ties, but otherwise, he is ready to roll.
But as I scoot a couple of offices down the hall, I want to offer some advice to Brent based on the many mistakes I have made in this seat:
- Spell names right, especially if it's the publisher or general manager of the newspaper. Just a reminder - it's Bryna Larsen, not Bryan Larson.
- The police's version of events holds a lot of weight, but those accused of crimes deserve, at a minimum, the chance to tell their side of the story.
- Don't argue with the anonymous posters on steamboatpilot.com. They win every time, and arguing with them only worsens your plight.
- Don't run a photo of a deceased person on the front page of the newspaper. For that matter, keep dead deer off the front page as well.
- If Kathy Diemer of Johnny B. Good's Diner calls, listen to her concerns, apologize and fix her problems. Don't be a defensive jerk.
- Print Omar Campbell's letters promptly.
- Return phone calls, including those from Ken Brenner.
- Have the courage to let people know you're fixing to rip them in an editorial.
- Get NASCAR and golf in the sports agate and make sure the Broncos' season opener makes the sports page.
- Don't cut the TV pages, and don't forget Sudoku.
- Find a way to get it - whatever "it" is - in the newspaper.
- Talk to multiple references - including references that weren't provided - before you make the hire. And tell job candidates that jeans, much less sweat pants, aren't appropriate for an interview.
- Take responsibility for things that go wrong, and credit your staff for the things that go right.
- You're the editor; your family members aren't. Protect them from things you screw up.
- A bunch at once: Go home earlier. Let it go. Be sensitive. Trust your staff. Shut up and listen. Talk less and say more. Presume good intent. And finally, every now and then, get up from your computer and walk around your newsroom and your community.
I will long remember the final sermon the Rev. Larry Oman gave as pastor last year at the United Methodist Church. Ever humble and gracious, Larry reminded the congregation that Matt Krier was our new pastor and that we should give him the opportunity to serve us at our weddings, funerals and other services. Following that sermon, Larry traveled and stayed away for several months, giving Matt the opportunity to establish himself with our congregation.
I am no Larry Oman, but his lead is one I want to follow as I end my tenure as editor and move to the advertising side of the business. This is my last "From the Editor" column, and I will cease posting to my "From the Editor" blog. Brent can decide whether he wants to continue either or both.
More important, if you have a question about the newspaper or a story idea, Brent is the person to call. His phone number is 871-4233, and his e-mail is bboyer@steamboatpilot.com.