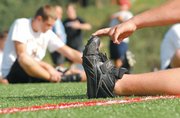 Soroco sports practice starting
Soroco High School athletics director Andy Johnson said football and girls volleyball practices will start Monday morning at the high school. Soroco football coach David Bruner plans to start his team's season at 8 a.m., when he'll hand out practice schedules for the upcoming two-a-days. Soroco volleyball head coach Kim Reeves plans to hold daily volleyball practices from 9 a.m. to 3 p.m., with a one-hour lunch break, next week.
Johnson said students need a physical and proof of insurance before they can practice. Soroco High School and Middle School athletic physicals will be held from 1 to 3 p.m. Thursday at South Routt Medical Center. The cost is $20.
Steamboat Springs — Athletes and coaches are already in the gym and on the fields of Steamboat Spring High School this week for optional conditioning camps. The official start of the fall sports season is Monday.
With the exception of the high school's golf team, which started its practice Monday, the remainder of the high school's fall sports lineup will begin practice next week. The football, volleyball, cross country, girls softball and cheerleading teams are among those that will kick off their seasons Monday.
"Everything gets going Monday," said Richard Lee, Steamboat's athletics director. "We are still going to interview coaches for cross country and cheerleading this week, but once we have those spots filled we are ready to go."
Football coach Aaron Finch said his team's first official meeting is at 8:20 a.m. Monday in the varsity locker room. Practice will follow at 9 a.m., 3:30 p.m. and 8 p.m. at the high school.
With just two weeks until the first game, Finch said the three-a-day practices are key to being ready when the season opens.
The team also hosted an optional conditioning camp this week to help players prepare for practice. Finch hopes to hit the ground running Monday. Players will be in pads Aug. 15 and 16, the first time they are allowed to have full-contact practices.
Soccer coach Rob Bohlmann also wants his players to get off to a fast start. He is hosting an optional drop-in session from 3:45 to 5 p.m. Thursday. The team's first official practice is slated for 9 a.m. Monday at Gardner Field. Bohlmann said the team will practice for two hours and then return to the field from 6 to 8 p.m. that night.
Wendy Hall is busy this week hosting an optional camp. She said the volleyball team officially opens the season at 9 a.m. Monday with a two-hour practice. The team's second practice is at 3 p.m. the same day.
Lee said Steamboat has hired Maggie Garcia as the new girls softball coach. Garcia plans to hold a parent and players meeting at 6:30 p.m. Thursday. She said the team's first practice is at 8:30 a.m. Monday at the Strawberry Park field. The team also will practice at the field at 6 p.m. that night.
Lee said he expects both cheerleading and cross country to start practice Monday as well. However, details about the times of those practices will not be announced until after the coaches have been hired. He hopes to finish the hiring this week.
Students who plan to take part in a fall sport must have a physical form signed by a doctor and proof of insurance before they will be allowed to practice.