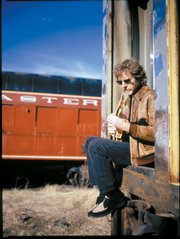 Steamboat Springs — He has shared a stage with some of the biggest names in acoustic and folk music, including Emmylou Harris, Lyle Lovett and David Grisman. He has inspired nationally known bands including the String Cheese Incident, Yonder Mountain String Band and Nickel Creek.
He plays a mandolin handmade to his specifications by Gibson.
He has been changing the definition of bluegrass for more than 35 years, beginning with 18 years at the helm of a band called New Grass Revival in the 1970s and '80s.
Earlier this summer, the Americana Music Association nominated him for "Instrumentalist of the Year."
Tonight, legendary musician Sam Bush plays a free show at Howelsen Hill.
"He is one of the great bluegrass performers of our time and probably one of the best - or the best - mandolin players in the world," said Joe Kboudi, owner of All That Jazz. Kboudi is a co-organizer of the Steamboat Springs Free Summer Concert Series, which this summer has brought The Wailers, JJ Grey and Mofro and Los Lonely Boys to the Howelsen stage.
Kboudi said Sam Bush is a show that local music fans will not want to miss.
"We are really excited to have him," Kboudi said. "He doesn't play up here very often, and he is a stellar performer. He'll give a great performance."
Bush will play with the Sam Bush Band, which includes Byron House on bass, Chris Brown on drums, Stephen Mougin on guitar and Scott Vestal on banjo. The group comes to Steamboat on a Western swing that will take them to Salt Lake City on Thursday, Idaho on Friday and Wyoming on Saturday before a return to the East Coast.
The group returns to Colorado on Aug. 26 for the Nedfest in Nederland, a small mountain town west of Boulder.
Tonight, the four-man bluegrass group Chatham County Line, from Raleigh, N.C., will open for Bush and his band.
Kboudi said he continually sees artists pick it up a notch when playing in Steamboat Springs.
"The artists feed off the crowd, and in particular, in Steamboat, the artists always step up their performance because the crowd always reacts so favorably," Kboudi said. "They will be wild about Sam Bush."
Kboudi said the final free summer concert will be an Aug. 24 show featuring reggae artist Pato Banton.