Officials urge caution around lost serval
African cat last seen in Heritage Park area
Wednesday, August 8, 2007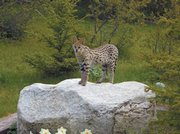 Steamboat Springs — A domesticated serval escaped from a motorhome in the Heritage Park area Saturday, and law enforcement officers are urging residents to be careful if they come in contact with it.
A serval is a wild African cat that is medium in size and distinguishable by its large, triangular ears and a lean body covered with black spots. A serval's natural diet includes rodents, birds, insects, reptiles, fish and hares. Jim Haskins, area wildlife manager for the Colorado Division of Wildlife, said he wasn't aware of the missing serval until Tuesday.
"It's supposedly domesticated, but it's still a wild animal," he said. "People need to be cautious if they come in contact with this thing and call (wildlife) officials."
Alta, Wyo., resident Ken Koster owns the serval, which he named Sir Sidney. Koster is offering a $500 reward for the return of his beloved pet, which escaped while Koster was visiting family in Steamboat Springs.
Koster said the animal still has its claws and could scratch anyone who attempts to pick it up.
"He really isn't a threat to people," Koster said Tuesday. "He would not attack anyone or be aggressive unless he was provoked."
Koster said Sir Sidney is bashful and responds to clicking sounds and raw chicken.
Haskins said the serval could be the animal that has been reported as a mountain lion. A reported mountain lion sighting was made Monday night by a Steamboat Springs police officer on Village Drive.
DOW officials will not actively search for the animal, Haskins said.
It is illegal to own a serval in Colorado, and Haskins said Koster could face fines as a result of bringing the animal into the state.
"It is not legal to own one of these things in Colorado regardless (of weather Koster has) got the appropriate permits in another state," he said.
Haskins said it's become popular to own exotic pets such as servals.
"They're the new designer pet," he said. "They're just not legal in Colorado."