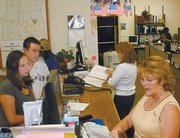 Mike Lawrence
Call Mike Lawrence at 871-4203 or e-mail
mlawrence@steamboatpilot.com
.
Steamboat Springs — Former Steamboat Springs City Council President Kathy Connell plans to run this fall for another stint on the City Council.
"I'm going to pick up a petition," Connell said Tuesday, announcing her intention to run for a District 3 seat representing south Steamboat.
Tuesday was the first day potential candidates could pick up a candidacy petition at City Hall. Former City Manager Paul Hughes also took a petition, to go with the candidate information packet he picked up last month. Hughes was fired from his city manager job in a surprising, late-night affair in December 2005 after he had already announced his plans to retire from the position he held for more than seven years.
Hughes said Tuesday that he is not yet ready to confirm his candidacy for City Council.
But get ready for the flood, folks. There will be five City Council seats on the Nov. 6 ballot, and interest already is brewing. At least five other people picked up petitions Tuesday, but those individuals could not be reached for confirmation.
Current City Council President Susan Dellinger and Councilwoman Karen Post received petitions Tuesday night, City Clerk Julie Jordan said.
And this is no recall attempt - you don't need nearly 2,000 valid signatures to run for City Council.
All you need is 25.
Round up your softball team. Send the petition around the office. Make a few friends at a local restaurant. You could fit 25 signatures on Barry Bonds' plus-size baseball cap.
"This is not a daunting task whatsoever," Jordan said, adding that anyone who will be 18 years old on Nov. 6 and has lived in Steamboat for 12 consecutive months is eligible to run for municipal office.
The deadline for City Council candidacy petitions is 5 p.m. Aug. 27. Jordan has served as city clerk for 12 years and remembers a time when one candidate cut it right down to the wire.
"There was one year when a candidate came in at noon on the deadline day, picked up a petition and returned at 5 p.m. with about 30 signatures," Jordan said.
The City Council's seven total seats include two representatives each from District 1, District 2 and District 3, and one at-large seat. District 1 includes west Steamboat and much of Old Town. District 2 includes the mountain area, and District 3 includes south Steamboat.
Although candidates must run for a seat in the district they live in, or the at-large seat, all Steamboat Springs voters will vote on all of the City Council races.
Also Tuesday, the Routt County Board of Commissioners gave final approval to expanded early voting locations and hours, along with finalized sites for precinct-based voting on Election Day.
Unlike last year's election, which allowed Routt County voters to vote at any "vote center" throughout the county, this year will mark a return to the precinct strategy, in which you can only vote at a polling location representing your county precinct.
Routt County Clerk and Recorder Kay Weinland said early voting will be in the Routt County Courthouse Annex in late October, and at Routt County Fairgrounds and Oak Creek Town Hall on Oct. 27.
New polling locations include The Tennis Center at Steamboat Springs for precincts 17 and 18 in south Steamboat, and the Lufkin LIFT-UP Center on Curve Court for precincts 3 and 4 west and north of downtown.
Weinland said as many as 10 entities - including Colorado Mountain College, the town of Oak Creek, the town of Hayden, the Hayden Cemetery District and the Steamboat Springs School District, which will have three School Board seats open - could have ballot items this fall.
Even though Weinland said there are no statewide items on the ballot, it'll be a busy election in Routt County during a supposedly "off year."