Wildlife officials urge caution after possible mountain lion sightings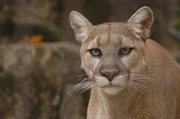 Steamboat Springs — During a summer in which city, county and state officials have fielded dozens of calls a day about bears, another animal may visit area homes - mountain lions.
Multiple sightings of a mountain lion and her cub have been reported at the Promontory Condominiums near the intersection of Ski Trail Lane and Apres Ski Way.
Steamboat Springs resident Kathy Connell reported the lion sightings twice this week to the Steamboat Division of Wildlife office and the Steamboat Springs Police Department, while a third sighting also was reported.
"On one encounter, children were out there going, 'Kitty, kitty, kitty,' to the cub, not seeing the mom in the tall grass between the lots of the two (condominiums)," she said. "Fortunately, we had some staff who went out there and shooed them away."
Connell, vice president of Colorado Resort Services, said she has posted warnings in all units about the threats of mountain lions.
"I don't want to have a tragedy for a mountain lion or a resident," she said. "The DOW said to educate your people, and I urge all property managers in the area to do this."
Jim Haskins, area wildfire manager for the DOW, said he sent two officers to the area, but no mountain lions were found.
"I don't believe she's actually seen it," he said. "The two officers that were sent up there said they saw a very large house cat from a distance, and even to them it looked like a possible mountain lion cub. I think that because of some other conversations they had with people over there, (the officers) were led to believe that this is what people were seeing."
Haskins noted that mountain lions are secretive creatures that rarely seek human contact, especially when traveling with a cub.
"It's absolutely possible we have a lion around here," he said. "It's less likely to see a lion than a bear, but I think people are being sensitive, rightly so, about wildlife lately because of all the reports of bears."
Haskins added that living in Routt County, residents should be aware about coexisting with wildlife, including bears and mountain lions. He asked that residents abide by city ordinances designed to prevent bears from accessing food sources that are driving wildlife into the city every day.
"It may be because of how their food sources were affected over the winter, but there are more animals coming into town," said Haskins, who noted that despite the large number of wildlife calls, the DOW takes each one seriously.
"If we responded to every sighting of something, we would do nothing but that," he said. "We clearly can't do that. We have policies, and there are certain policies that say when we should respond."