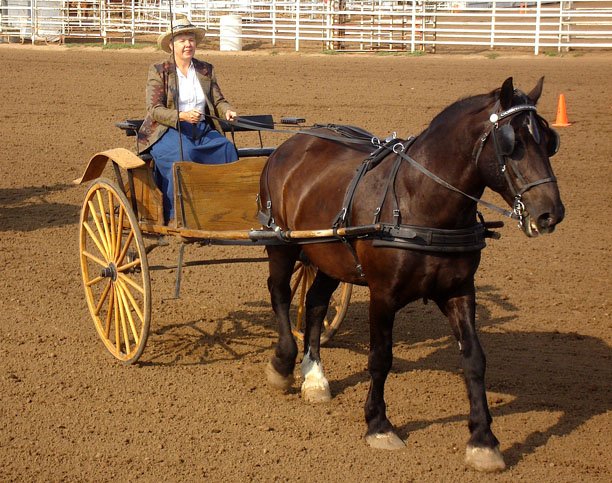 Horsing around
Driving event challenges entries with difficult course
Craig — The Horse Driving Contest looked like fun.
That is, until driver Tom Soos walked the course.
"It looks pretty challenging," he said. "There's some tight turns in there."
Soos is heading into his first year of the contest, designed to test horse and driver with a series of turns, switchbacks and tricky maneuvers.
"Turn seven is a serpentine turn," Glenda Bellio said after setting up the course. "A pony and cart can go right through, but a team driver's got to line them and the wagon up and swing them on through."
Bellio said the course was set up to be challenging at the start, with some easier sections toward the finish.
The Soos team of Norwegian Fjords and Bellio's Percheron team would find the course the most challenging as the drivers swung the wagons wide to line up for the next set of cones.
Things were somewhat easier for 11-year-old Ripley Bellio as she turned Ed, the Shetland pony, toward the course.
Her five years of experience driving the cart showed, as she guided the "Ed Express" smoothly through the series of cones.
"He loves it," she said. "You don't have to do much work. I just have to do speed management through the cones."
Deb Dunnaway has high expectations for Dan, the 20-year-old retired sleigh-pulling horse, whose partner was killed by lightning.
"He's still getting used to being by himself," Dunnaway said. "He's just settling into it. He's also used to having summers off, and now I'm asking him to work."
Ten-year-old Holly Dunnaway holds on tightly to the reigns as her horse, Speedy, lives up to his name during a practice round. She has good memories of last year's horse driving events at the Moffat County Fair.
"It's fun," she said. "Last year, Ripley and I did the obstacle course, and we won it."
Dan Olsen can be reached at 824-7031, ext.207, or dolsen@craigdailypress.com