Wild West Relay doubles in size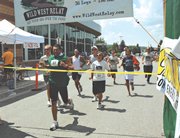 Steamboat Springs — One look at Wild West Relay race organizer Paul Vanderheiden, and it's easy to see what the race means to him.
Asked if he'd ever considered the race growing to the 128 teams competing this year, the fourth year, and Vanderheiden has to take a moment.
"You hope it would grow," Vanderheiden said, while trying to compose himself. "The first year we had 60 teams and I was just overwhelmed. Now, we've doubled that and we've got people coming from all over the country. It's pretty amazing."
What's also amazing is the type of teams coming in for the 36-leg, 195-mile team distance relay run that starts Friday in Fort Collins and finishes Saturday in Steamboat.
From a team of NORAD and U.S. Northern Command communication workers to a high school cross-country team, the relay was represented by 38 states and a Canadian Providence.
"A couple people did tell me it'd get this big," Vanderheiden said. "You hope, you work hard and you put on the best event you can. The word of mouth is what's sold this thing."
What's also sold it for Vanderheiden is the race is one of the premier relay events in the country. It's been featured in numerous runners' magazines and gone from 60 to 94 to 128 teams.
The race has two basic relay formats, one with teams of 12, with each participant running three relay legs of 5.25 miles, and the other with teams of six, divided up in three distance categories. Racers head north through the Roosevelt National Forest and briefly into Wyoming before heading back south through Jackson County, up and over Rabbit Ears Pass and onto the Yampa River Core Trail and into town before finishing at Steamboat Springs High School.
"It's fantastic, we loved it and we'll be back next year," said Phil Wilker, who competed on a 12-person team of communications workers from NORAD and U.S. Northern Command. "It's the best time running I've ever had."
Wilker said his team, comprised of Americans and Canadians, work together all the time and, after getting the go ahead from their bosses, were able to come and do the race.
"The missions of NORAD and Northern Communications are pretty intense and you need something to blow off some steam," Wilker said. "It's a wonderful opportunity to run in a great race. It's a challenge. It certainly kicked my tail coming down Rabbit Ears Pass (Saturday). It was great."
For other teams like Dennis Rademacher's Rad's Lads, the relay provides him a way to do some team building before fall high school sports begin.
Rademacher, who coaches cross-country and track at Horizon High School, said the 24-hour period of running serves as somewhat of a preseason camp for runners who've kept in shape during the summer.
"You get a high school team with some kids that can handle this and I think it's great," said Rademacher, whose team featured four of his runners, several alumni and their athletics director. "Riding in the van together for a day together, it brings them together."
With the fourth year in the book, Vanderheiden already was preparing for next year's race. While he's unsure if he'll increase the field or keep it the same, Vanderheiden did concede this was the best of the four years.
"My observations were this is real close to what it can handle," Vanderheiden said. "I don't want to overwhelm the generosity of the people letting me use the facilities."