Routt National Forest a valuable resource for livestock owners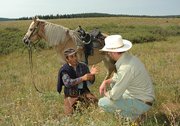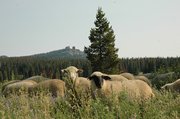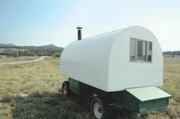 Steamboat Springs — Nicolas Poma Castro said the wildflower-strewn meadows of the Routt National Forest reminded him of his childhood herding sheep in the shadow of the Andes Mountains.
The native of Peru set up camp last week near Dumont Lake in the heart of the Rocky Mountains with a band of nearly 1,000 sheep for the grazing season. For the next two months, Castro will spend restless nights and saddle-sore days tending the livestock.
"The nights are long because I listen for the dogs," Castro, 45, said in Spanish. "During a full moon, the sheep like to walk away. Coyotes and bears also visit."
His home consists of an 11-foot-by-5-foot wagon, which does little more than protect him from the elements, while Castro's companions are his terrier-mix Leigh, two Great Pyrenees-mix work dogs and a palomino horse. Another Peruvian shepherd, Alejandro, is camped about a mile away, but other than the occasional hiker or mountain biker, human contact is limited.
Castro said sheep are creatures of habit, and since the band's life is his life, his routine reflects their needs. When they sleep, he sleeps. When they are hungry at 5:30 a.m., he rises from bed.
"It's a lonely job, there's no doubt about it," said Tom Maneotis, who owns the sheep and spent $2,500 to bring Castro to Steamboat. "I once picked up a guy who was real down on his luck and he begged for a job. I dropped him off, and by the tenth day, he said he couldn't continue. 'The solitude, I can't stand it,' he said. 'I'm just too lonesome.'"
Erik Taylor, a rangeland and management specialist with the U.S. Forest Service, broke Castro's monotony with a Tuesday visit to his camp, which is one of 30 grazing allotments in the Routt National Forest.
"We come up to make sure that the livestock are on their permitted allotments and that they are being moved around and not overusing any areas," said Taylor, who noted livestock grazing has been a cornerstone of the Forest Service since its creation.
"If managed properly, livestock can certainly stimulate growth of species (of plants) that have been grazed for thousands of years," he said. "We also utilize sheep for control of non-native noxious weeds, and we use them as a tool to manage undesirable species of vegetation."
Maneotis said without the right to graze on the Forest Service land, his business, which has held grazing permits in the Routt National Forest since the 1940s, couldn't subsist.
"We have quite a bit of private land around here in Oak Creek to graze on," he said. "But we wouldn't be able to have the same numbers if it wasn't for the national forest."
The Forest Service allows 40,000 sheep to graze in the forest each year on allotments that range from 7,000 to 15,000 acres. The number of livestock allowed on each allotment depends on the size of the area. Fewer sheep are expected this year because drought conditions have pushed farmers to thin their herds.
Ranchers must apply for an allotment through the Forest Service, and Taylor said fees to graze on the land are calculated by a number of variables. Production costs for livestock owners, the number of livestock in a herd or band and the market rate for sheep or cattle, all are factors in how much ranchers must pay for grazing rights.
"If the livestock market is strong and expenses are down, then they get a better rate," said Taylor, who noted the current rate is $1.35 per animal unit month.
On a band of 1,000 sheep, in which five sheep make one AUM, Maneotis, who has three bands grazing in the Routt National Forest, pays $270 per month, per band, for one grazing allotment.
"Some people say that is low and is not representative of what they would pay grazing on the open market," Taylor said. "But this is a public resource that has been (one for) a long time and a livelihood for a lot of people in our region."
Maneotis said his biggest expenses are his Peruvian laborers, who have three-year work visas arranged by the U.S. State Department.
"I pay for all their travel expenses, which we do not deduct from their wages," he said. "It's $2,500 just to get them over here, and then we pay for their supplies. After three years, they must go back to their home country, and we have to advertise locally to replace them. I've never had anybody locally even call for this job."
Another concern directed toward Maneotis was the impact sheep herding might have on the environment.
"A lot of people are concerned that the sheep are eating all the wildflowers up at Rabbit Ears," he said. "But we'd be cutting our own throats if we let that happen because there wouldn't be enough food next year to graze. It's in our best interest to take care of the resource."
As Castro and Taylor left the band to inspect a malfunctioning rifle, the work dogs took over. As the sheep munched on wildflowers, weeds and grass, the dogs remained at a manageable distance, circling the group as they kept an eye out for threats to the herd.
Castro said three sheep this summer have been lost to predators, and more are expected to be taken, but ultimately the cool summer nights under a "beautiful" moon negates any worries about bears.
"The moon is big and beautiful here," said Castro, who will spend the winter working in Denver. "And the mountains look like Peru."
- To reach Mike McCollum, call 871-4208 or e-mail mmccollum@steamboatpilot.com