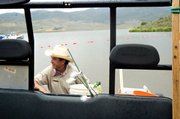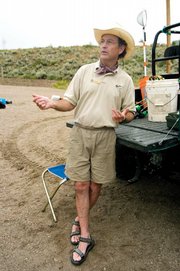 Steamboat Springs — Ranger Smokey is a colorful character who walks around Stagecoach State Park with buckets of crayfish, collects feathers and cooks 4,000-year-old recipes, all with the hopes of educating people about nature.
"My job is to learn enough about (Stagecoach State Park) and its natural resources to pass that information along to the public to give them some appreciation of what is surrounding them," he said.
Ranger Smokey, whose full name is Frank "Smokey" Vandergrift, began working as Stagecoach's seasonal park interpreter this year. Vandergrift has developed nine separate nature programs that he teaches to people from ages "2 to 90." The programs include the Junior Ranger series for children and young adults, nature hikes and "Ladies Learn to Fish" clinics.
The programs themselves are free, but a park entrance fee of $5 per car is required.
Vandergrift, who graduated from Colorado State University's forestry program and has worked all across the nation, said he strives to include history, culture and nature in all of his programs.
"I cover the whole spectrum," he said. "It gives people a broader perspective. I want to make people aware of what's going on."
Vandergrift will continue with his presentations Fridays, Saturdays and Sundays through Labor Day weekend in September.
"The neat thing is that this park is committed to providing these programs because a lot of parks don't have the budget, will or interest to provide them for their visitors," he said. "We try to keep our (programs) dynamic and interesting."
Getting people to participate in his programs isn't difficult because Vandergrift wanders the park until he gathers enough bodies, he said.
"I take the programs to the people," he said. "If I have to, I'll set up on the boat ramp to get their attention."
Watching children explore their surroundings is Vandergrift's favorite part of his job, he said.
"You have to keep your eyes on them because they'll stick their little hands into a bucket of crayfish without thinking twice," he said. "I don't mind because kids today spend a lot more time inside. I like to let them use their imaginations, build sand castles and explore."
Friday afternoon was the first time all summer Vandergrift's program has been canceled due to rain. Despite a few brave souls who ventured into the reservoir, Vandergrift didn't have enough people to do much of anything except watch the rain pool on the beach.
"It's OK," he said. "We'll pack it in tomorrow."
For more information about Ranger Smokey's programs, call Stagecoach State Park at 736-2436.
- To reach Alexis DeLaCruz, call 871-4234
or e-mail adelacruz@steamboatpilot.com